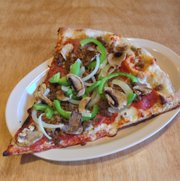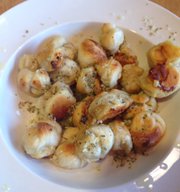 For those with an empire state of mind, another New York-style pizzeria has hit Lawrence, along with miniature morsels of toasty garlic knots (more on this farther down). Pizza chain Johnny Brusco's (located in the old Godfather's location at 721 Wakarusa Drive) is serving up thin and crisp slices and whole pies of various toppings-ridden pizza.
Not messing around, I chose the Brusco's Deluxe slice, much larger than my face, thin on the tomato sauce and cheese, and wonderfully decorated with sausage, onion, mushroom, green pepper, beef, Canadian bacon and pepperoni. New York style is meant to be eaten on the street, which is why this hand tossed crust is so thin and foldable.
Caution: you may lose toppings however you decide to consume it. Picking it up and shoveling the slice into my mouth proved to be the most effective.

Where to get it: Johnny Brusco's, 721 Wakarusa Drive
What you'll pay: $3.49 for a slice; $15.99 for 12-inch pie; $17.99 for 14-inch; $21.99 for 16-inch.
Try it with: Garlic knots for $3.99. Unlike the fist-sized garlic knots that run for 25 cents each in the big apple, these are like the children of those. Arriving in a bowl, these are numerous bite-sized pieces of pizza dough tied into knots and topped with butter, herbs and plenty of garlic.
Also on the menu: Tons of pizza options from basic cheese (Tuesday is $1 cheese slice pizza day) to buffalo chicken, steak and cheese or cream cheese. Johnny Brusco's also prepares calzones, stromboli, pasta, subs and more salad choices than probably ever taken advantage of, considering the former.
Copyright 2018 The Lawrence Journal-World. All rights reserved. This material may not be published, broadcast, rewritten or redistributed. We strive to uphold our values for every story published.