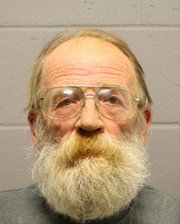 A 67-year-old Lawrence man charged with first-degree murder in the Nov. 5 shooting death of his wife has been found competent to stand trial after undergoing a mental health evaluation.
Larry L. Hopkins appeared in Douglas County District Court on Tuesday for a competency hearing after being evaluated by a Bert Nash mental health specialist earlier this month to determine whether Hopkins was capable of understanding the charges against him and was able to assist in his defense.
On Tuesday, Judge Michael Malone found Hopkins competent to stand trial and scheduled a preliminary hearing in the case for Jan. 2.
Hopkins' attorney, Clinton Lee, filed a motion to determine Hopkins' competency on Nov. 12. Both sides were scheduled to appear for a competency hearing on Nov. 20, but the hearing was rescheduled when Lee was unable to leave a jury trial in another district.
Hopkins is charged with first-degree murder in the shooting death of 61-year-old Margaret Hopkins on Nov. 5. Lawrence police and fire-medical crews arrived at the couple's home in the 1600 block of West Second Terrace at 8:45 a.m. that morning following a report of a shooting. Hopkins was booked into Douglas County Jail — where he remains on a $150,000 bond — after being questioned by Lawrence police. Police allege that Hopkins shot his wife because of her ongoing health concerns.
In previous interviews, neighbors and family said Margaret Hopkins suffered from arthritis, diabetes, nerve damage and knee problems. Larry Hopkins, meanwhile, has had heart problems and had suffered a stroke in recent years.
If convicted, Larry Hopkins faces life in prison without the possibility of parole for 25 years.
Copyright 2018 The Lawrence Journal-World. All rights reserved. This material may not be published, broadcast, rewritten or redistributed. We strive to uphold our values for every story published.