Jerry Totten started saying his goodbyes Tuesday.
The longtime downtown Lawrence mailman walked the route he has trekked thousands of times over the past 11 years, bidding adieu to many familiar faces.
Totten's last day with the U.S. Postal Service is Friday, ending a career that almost didn't start.
In 1970, he was a Kansas University student when he had a carrier exam scheduled at the post office. Trouble was, a snowstorm wrecked his chance of getting there by car. So he walked, from near the Kansas Union to downtown in the snow.
That practice would come in handy. In 2002, he began walking up and down the 600 to 1100 blocks of Massachusetts and New Hampshire streets, rain or shine.
While the sun shone Tuesday, it was windy and in the 30s as Totten — wearing his postal uniform, Craftsman gloves, a colorful tie and Jayhawks earmuffs — walked into some of Lawrence's oldest buildings, past salons, massage therapists and unmarked offices filled with hipsters staring at iMacs; up an old elevator with a scissor gate; through restaurants, with their fragrance of pizza and Mexican food and Indian cuisine (Totten calls the smells "a nice perk").
"Hey, I thought you were supposed to be retired?" joked therapist Susan Olson, as he handed her some letters.
As he noted about the chilly weather, walking in and out of heated stores does make it more bearable. "I want that last day or two to be warm," he noted. "It'll be 50 on Friday."
On the route, some places have mailboxes, some have slots; for others, he has to enter a security code to drop off the mail. "I wouldn't like it if all the businesses had boxes outside," said Totten, who sports a pin-covered USPS hat (sample pin: "I Serve You. U.S. Postal Service.") over his ponytail. "I wouldn't get to interact with people as much as I do."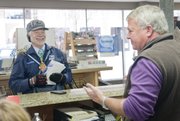 Totten, who has a plainspoken, folksy charm likely perfected growing up on a farm in rural north-central Kansas, is like a community ambassador of sorts, with out-of-towners stopping to ask him for directions or restaurant recommendations. In the past 11 years, he has seen businesses come and go and people change jobs from one downtown company to another.
Jayni Carey, owner of the Blue Parrot Salon, says she'll miss Totten's warm, friendly demeanor.
"It won't be the same without him," said Carey, giving him a hug Tuesday and telling him to stop back later in the year for Christmas cookies. "He's very much a fixture in downtown. Everybody loves him and knows him."
Audrey Bellinder, manager at Miss Fortune's Creation Station, says that she has seen Totten just about every day since she started at the downtown business five years ago. "We're sad to see him go," she said. "He's a really nice mailman, and he's always very cheerful."
Like many Lawrencians, Totten, 62, came to town to attend KU — and never left. He didn't know what he wanted to do at first, just that he didn't want to return to the farm. "I eventually studied journalism. That's why I'm a mailman," he deadpanned, before giving the actual reason: "It was the job security."
Eight years into his career with the post office, he almost left for a factory job when his union struck a deal that no employee with six or more years of seniority could be laid off. But he also never wanted to leave Lawrence, where he lives with his wife and teenage daughter.
Totten always carries an air horn these days, partially as a joke but also for practical reasons. In 2007, he was crossing Seventh Street at New Hampshire when a car struck him from behind. Not that he remembers it. He was life-flighted to Kansas University Hospital, where he woke up three days later. He suffered head trauma, and he still struggles with headaches and short-term memory loss. He has actually put the air horn to use a couple times since then. "The only thing as dangerous as cars is the ice," he said.
Still, Totten says he'll miss the job, particularly being downtown as much as he is. "It's just a wonderful neighborhood to work in," he said. "Plus, I'm getting paid for five or six hours of exercise a day. I'm not having to pay a gym fee."
Totten hadn't thought about retiring until earlier this year, when his daughter decided to go to KU instead of a more expensive school out of state. He isn't sure what he'll do in his time off, other than catch up on his hobby of refinishing antique furniture. He might also have to finally join a gym. "Having worked for the post office since I was 19 years old, it's going to be a big change," he said.
Copyright 2018 The Lawrence Journal-World. All rights reserved. This material may not be published, broadcast, rewritten or redistributed. We strive to uphold our values for every story published.