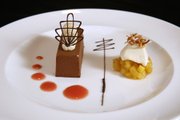 Chocolate mousse tinged with Linzer cake, raspberry jam and flourless chocolate cake. Topped with coffee Chantilly cream. Accompanied by caramelized pineapple and banana-rum spiced ice cream. Served with toasted coconut and a side of guava sauce.
Lawrence resident Kathryn Ratzlaff didn't dream up the elaborate dessert, but she prepared it deftly enough to help her team take fourth place at an international cooking challenge this month.
Ratzlaff, a 19-year-old Lawrence High School graduate, works as a pastry cook at WheatFields Bakery Cafe and is in her second year in the baking and pastry program at Johnson County Community College. Along with five fellow JCCC students and two culinary instructors, she traveled to Korea for the first International Young Chef Challenge, which took place Nov. 6-9 in Seoul.
"It was a lot to take in, but just seeing people's techniques and ideas ... it was amazing," Ratzlaff said. "I learned a lot."
Ratzlaff and JCCC took fourth overall in the field of 20 teams — the rest of which were national teams from other countries.
Not bad for "just college kids from Kansas," said JCCC instructor Edward Adel, who explained that JCCC was allowed to enter the competition because the U.S. national team was unable to go.
Adel said Ratzlaff impressed with her calm demeanor in the kitchen and preciseness in preparing a complicated dessert — exquisite chocolate garnishes and all.
"She's never been in a competition before in her life, and she went and competed nationally half a world away," he said. "She really held her own."
The JCCC team drafted Ratzlaff late in the game, replacing a different student who was initially assigned to the dessert category. Luckily, Ratzlaff said, four weeks of lead time was enough to get her passport rushed.
Ratzlaff practiced making the dessert while other team members worked on the appetizer and entree portions they would serve for the competition's hot food category. Once in Korea, the team would have five hours to replicate their planned meal for 65 people. For the competition's cold food category, students prepared a number of items in advance and preserved them in aspic — eating wasn't part of the judging process for this section.
Ratzlaff said she'd eventually like to work in a pastry shop, maybe working in different restaurants first to learn from others in the industry.
Not only does Ratzlaff like the calculation and science required for baking and desserts, she likes the challenge of presenting them creatively and beautifully.
"It's an art form," she said.
Copyright 2014 The Lawrence Journal-World. All rights reserved. This material may not be published, broadcast, rewritten or redistributed. We strive to uphold our values for every story published.