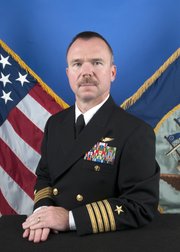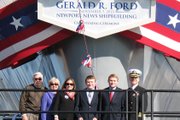 The last time someone became executive officer of the first in a new series of U.S. Navy aircraft carriers was more than three decades ago, with the commissioning of the USS Nimitz in 1975.
Now, as the Navy launches its next-generation series of carriers, there's a Kansas University graduate in the job.
Capt. Sean Bailey is executive officer of the newly christened Gerald R. Ford aircraft carrier — a giant vessel that, once deployed, will carry about 4,500 people and the latest war fighting technology.
"It's a pretty big honor," Bailey said of his position. "It's made even more special by the fact that this is a first-in-class ship."
The Ford was christened in Newport News, Va., and launched from a drydock into the water earlier this month after more than 12 years of planning and construction, according to the Navy. The ship is scheduled to be delivered from the shipbuilder to the Navy in 2016, when it will formally become the USS Gerald R. Ford.
Bailey lives in Virginia Beach, Va., with his wife, Danette. They have two sons, 18-year-old Jake and 13-year-old Jack. Bailey, who grew up in Lansing, attended KU on a Navy ROTC scholarship and graduated in 1990 with a degree in political science.
He started his Navy career in the air — logging more than 3,400 hours and 899 aircraft carrier landings in the F-14 Tomcat and F/A-18 Super Hornet. Bailey's lengthy resume includes graduating from the U.S. Naval War College in 2005, deployments to support troops in Iraq and Afghanistan, an assignment on the NATO staff of Allied Joint Command Lisbon in Portugal and a number of awards.
Before the Ford is deployed, Bailey said construction and testing would be completed and that he and other officers would work to build, train and move in the crew.
That will be no small feat.
The crew itself counts for more than 2,600 of the 4,500 personnel expected to be on board. Bailey said members are arriving at the rate of about 100 per month.
"Just to get all the crew here, it takes a little over two years," he said.
Once deployed, the Ford will be like a floating city with housing, entertainment and supply stores for everything from personal hygiene products to clothing, Bailey said. The ship will have its own medical staff, including a surgeon, and even its own dental department.
The Ford is about 1,100 feet long and measures about 250 feet at the widest part of the flight deck, Bailey said.
"We call it five acres of sovereign U.S. territory," he said.
The Ford is the lead ship of the Gerald R. Ford class of aircraft carriers, which will eventually replace all Nimitz-class carriers — the tenth and last of which was the USS George H.W. Bush, commissioned in 2009.
The Ford will launch current aircraft as well as "aircraft we haven't even begun to design," Adm. Jonathan Greenert, chief of naval operations, said in a news release.
"Ford will herald a new era of our carrier fleet," Greenert said. "She is truly a technological marvel."
Copyright 2018 The Lawrence Journal-World. All rights reserved. This material may not be published, broadcast, rewritten or redistributed. We strive to uphold our values for every story published.