Food Stamp Challenge
Just Food, the Lawrence food bank, held an event last week in recognition of National Hunger and Homelessness Awareness Week. Local residents were invited to participate in a simulation in which they lived off the average Kansas food stamp allotment for food per day - now $3.96. During a kickoff event Monday at Checkers, participants mingled and shopped. Participants were encouraged to take part for two to five days.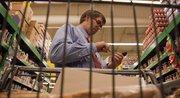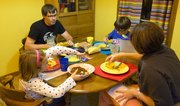 It was a simple sign that advertised one of the world's simpler delights: pie.
I'm always in the mood for pie, and on this day it sounded like a particularly good idea because I had plenty of room for it in my stomach.
One problem: I didn't have room for it in my wallet.
You see, I was participating in this stupid Food Stamp Challenge put on by Just Food, the food bank in Lawrence. Yeah, I said stupid. You stop me from getting pie, and I get nasty.
Indeed, this program stopped me from getting pie. When I saw the little handwritten sign hanging from the door of Great Harvest Bread Company, I was only on Day 1 of this four-day challenge. The organizers of the challenge told me that I had $63.36 — the average food stamp payment for a Kansas family of four — to meet all of my family's food needs for the four-day period. Just the night before, I had spent over 80 percent of my entire allowance on a single trip to the grocery store.
So, I passed on pie. (I write that sentence with gritted teeth.) But as I continued my walk downtown, I realized I did gain something. It was my first lesson from this challenge: We want what we can't have.
That's nothing new. I want a 120-foot yacht, but I'm not going to get one, and I've pretty much gotten over that fact. (I still do wear a skipper's hat from time to time.) But when it comes to something small, like a simple piece of pie, telling me that I can't have that is a little hard to swallow.
Swallow. Mmm pie.
Stupid, stupid Food Stamp Challenge.
•••
I looked like a man preparing for an IRS audit. In the middle of a grocery aisle at Checkers, I have papers spread out everywhere and a calculator in one hand. My wife has sent me to the grocery store with coupons sticking out of places I didn't even know I had.
She also gave me a list, and a pretty stern warning that I had better stick to it. If you are a family of four — my wife and I have a 10-year old son and a 7-year old daughter — here is one way you can spend your four-day food stamp allotment of $63.36: 1 bag of fancy shredded cheddar cheese; six containers of yogurt, five pounds of pork chops; one pound of fatty ground beef; one frozen pizza; one pound of angel hair pasta; one bag of Always Save BBQ potato chips; one big bag of Always Save Crisp Rice cereal; one jar of peanut butter; six containers of apple sauce; one box of maple and sugar oatmeal; one can of "fancy" cut green beans; one loaf of wheat sandwich bread; one package of Kraft homestyle macaroni and cheese; four cans of Progresso soup; a box of taco shells; a half gallon of 1 percent milk; a pound of deli ham; a bag of marshmallows; and two sticks of butter.
The total came to $58.37, but I pulled a couple of coupons out of somewhere and reduced the total to: $52.47.
Of course, I forget a few things. (I blame the list. Others do not.) I forgot taco seasoning, another bag of marshmallows (we had to make 25 Rice Crispy treats for my son to take to class), beans for the tacos, a bag of tortilla chips, a can of cream of mushroom soup and brownie mix for my wife to take treats to work. That added another $7.61. That left us $3.28 under budget.
With this wonderful bounty our supper menu was: frozen pizza on Monday; macaroni and cheese on Tuesday; pork chops with cream of mushroom and green beans on Wednesday; and tacos and tortilla chips on Thursday. Our kids ate school lunches, Kristine took soup to work, and I ate more ham sandwiches and BBQ chips than I would care to admit.
Things I would have liked to have had include: taco sauce for my tacos, sour cream for my tacos, a daily apple for breakfast, and a 120-foot yacht.
The oddest thing I ate was on Day 1 when I had a sugar craving, so I heated a couple of tablespoons of peanut butter and poured it over crisp rice cereal. The best thing I ate all week were incredibly cheap Rice Crispy treats. One package of marshmallows made about 20 Rice Crispy treats. We needed 25, so we had to buy an extra bag of marshmallows. It left us with quite a few extra Rice Crispy treats.
I ate five of them that night — just because I could.
•••
I almost dropped my phone when I got this text from my wife: How much money do we have left to spend this week? Let's just say, that's not the ordinary question I get from my lovely wife.
But this wasn't an ordinary week. For starters, on Day 1, I was hungry with a capital H. That was a Tuesday, and I worked a night shift at the newspaper, so I missed out on the macaroni and cheese extravaganza. I had oatmeal for breakfast, a ham sandwich, chips and applesauce for lunch, and the same for supper. I didn't eat out or buy a snack on Tuesday, nor at any time during the week. When I got home at about 9:30 p.m., my most fervent hope was that there was leftover macaroni and cheese. There was not. Instead, I ate what I think was a sofa cushion. Or maybe it was my third ham sandwich of the day. It was tough to tell.
My thought process about this food challenge wasn't too great at this point. Come to find out, I wasn't alone. In talking with Kristine, my wife, she said she just kept having an overriding thought all week: Are we going to run out of food?
That thought was with me too, and it was crazy. I don't have those type of thoughts because for my entire life, the only way I would run out of food is if all the grocery stores caught on fire at the same time. It's not going to happen. But yet, this week, you wondered.
Let's be honest, though. We didn't run out of food, and we didn't come close to going hungry. Thankfully, my kids hardly noticed this experiment. They ate school lunches, as a child on food stamp assistance would. This experiment probably would have been harder in the summer when they are home all day and eating everything in sight. After lunch on Friday — the ending point in this experiment for my family — we still had food left: a package of pasta, two pouches of oatmeal, a half jar of peanut butter, a few slices of bread, and a third of a bag of crisp rice cereal.
You can make of that whatever you want. I never signed up for this challenge to get involved in some debate about the food stamp program. I never thought that this four-day exercise would replicate a life of poverty. It didn't. But I did think it would be interesting to think about food, how much it costs and how much of it we need to live a healthy life.
And I guess I did end up thinking about that. The main thought I had was: Do I have enough of it? What probably surprised me the most about this exercise is that it didn't ultimately end up being about a lack of food. It ended up being about a lack of confidence. I wonder what it must be like to go through life always having such doubt about such a basic need.
I'll wonder, but I hope to never find out. This Food Stamp Challenge is done for me, and now my mind turns to another thought: A piece of pie is going to be good.
Peace of mind is going to be even better.
— Each Sunday, Lawhorn's Lawrence focuses on the people, places or past of Lawrence and the surrounding area. If you have a story idea, send it to Chad at clawhorn@ljworld.com.
Copyright 2018 The Lawrence Journal-World. All rights reserved. This material may not be published, broadcast, rewritten or redistributed. We strive to uphold our values for every story published.