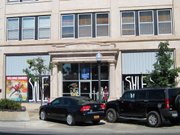 Can you believe Black Friday is right around the corner? If you're anything like me, you haven't started the daunting task that is holiday shopping (aside from that small jar of fresh jam you bought your mom at Louisburg Cider Mill ... Mom, if you're reading, act surprised).
And what do you buy for each person on your list? Their interests are as varied as their lifestyles. Well, folks, I'm here to tell you: don't fret! Mass Street has a plethora of options for everyone on your list. In fact, I'm going to review some top shops to hit when considering a few gift categories: confections, stocking stuffers and clothing.
First, let's talk confections. Perfect to present to holiday party hosts or in-laws when visiting, a chic package of chocolates or freshly made cupcakes is sure to hit the spot. A few places to keep in mind on Mass Street: Mass Street Sweet Shoppe and Billy Vanilly. Mass Street Sweet Shoppe offers candy, chocolate-covered sweets, cakes, pies and more. Billy Vanilly specializes in cupcakes - in a variety of flavors and sizes.
While carefully wrapped confections can serve as stocking stuffers, sometimes it's best to find non-edible items (in case you the dog accidentally gets to it first). Plenty of local shops have worthwhile stocking-stuffer sized items that are perfect for gifting. I would suggest Hobbs and Bloom Bath and Body, to start. Hobbs is always stocked with silly trinkets and funky gadgets, while Bloom is known for its smaller lotions, soaps, fragrances and candles.
As for larger gift items, when in doubt go for Rock Chalk gear! That, or set your loved one up in style with some new attire. Fortunately, there are multiple downtown stores stocked with KU gear, so you won't have trouble there. The mister prefers Jock's Nitch for KU everything (they have more than just clothes, too). For non-KU items, hit-up our local department store, Weavers, which has classic selections for both men and women.
While this is merely a taste of what Downtown Lawrence has to offer, I hope it's helpful in considering a few options for holiday shopping. A few other not-to-miss spots (although not at all exhaustive): The Raven (books), Made (unique items), Love Garden (tunes), Goldmakers (jewelry), Sunflower Bike Shop (outdoor gear), Blue Dandelion (baby items), etc. You can't go wrong on Mass Street! Happy shopping, and happy holidays!

— Jessica Pauly, aka Mrs. Mass., gives her thoughts on shopping, urban living and what's new in Lawrence in CheckOut weekly and on her blog, mrsmass.com.
Copyright 2018 The Lawrence Journal-World. All rights reserved. This material may not be published, broadcast, rewritten or redistributed. We strive to uphold our values for every story published.