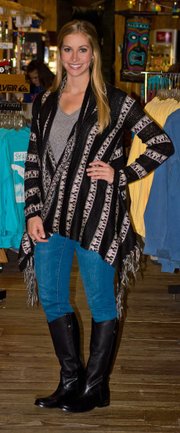 After the shock of last week's real winter chill, we began to hunt for key winter pieces so we can be better prepared for the next round of arctic temperatures - all while keeping our style in check, of course.
Out of all the retailers along Mass Street, we found ourselves in Shark's Surf Shop. Don't let the name fool you - they are fully stocked with winter-weather clothing, shoes and accessories that will keep you both warm and stylish this winter season. Their sweater assortment blew us away with the variety of prints and styles. Their boots section also caught our eye with new styles by TOMS and Frye. Both brands continue to create stylish cold weather gear with an outdoorsy feel.
Sleek leather riding boots, especially the Frye boots we found from Shark's, are definitely worth the splurge. You can't beat their quality and their sophisticated look. The leather is beyond gorgeous, but best of all, these boots will last you many years. Thanks to their timeless style, you will get a lot of mileage out of them, allowing you to wear them for future winter seasons. The TOMS selection at Shark's is also a win. We love the new look of the brand's boots with a slightly slouchy fit, mixed material and tribal patterns. It's a nice update to the famous TOMS slip-ons. We envision pairing these beauties with leggings and tights styled with oversized sweaters and dresses.
Once we moved past the assortment of stylish boots and shoes, we went on to search for warm, wintery finds in their clothing section. We were in chunky sweater heaven when we came across their sweater assortment. They have everything, from turtleneck sweaters to open-front, tribal-printed cardigans. There were also some dresses in between, which would be great layered underneath your sweaters and cardigans. We're really intrigued by the turtleneck knits this season because they are making a more polished comeback. The fabrication is slightly thicker and the cut is slightly longer thanks to the universal oversized fit that all designers are creating now. Either way, we're fans of them paired with skinny jeans and boots; or, if they are a true oversized tunic style, we suggest styling them over leggings and riding boots.
Next time you are down on Mass Street looking for pieces to build your winter wardrobe, check out Shark's Surf Shop for a variety of winter essentials, unique styles and quality brands in a cool boutique atmosphere.
— Emily and Elizabeth Kennedy are twin sisters and fashion bloggers who share a blog called Fashion Column Twins. They can be reached at fashioncolumnblog@gmail.com.
Copyright 2018 The Lawrence Journal-World. All rights reserved. This material may not be published, broadcast, rewritten or redistributed. We strive to uphold our values for every story published.