• Michael McGrew, of Lawrence, took over as the 2014 Treasurer of the National Association of Realtors at the association's board of directors meeting on Nov. 7. McGrew, a realtor for nearly 30 years, is the CEO and chairman of Douglas County-based McGrew Real Estate. He has served on NAR's board of directors for nine years.
• McGrew Real Estate's Kimberly Williams has been awarded the 2013 Optimist of the Year Award by the Lawrence Breakfast Optimists Club. Williams has been a member of the organization since 2004.
• Lawrence television station Channel 6 announced veteran broadcaster Jay Wachs will be the new host of "Town Topic." Wachs is the president of The BriarCliff Group, a local public relations firm. He also co-hosts the Leadership Lawrence online radio show broadcasted on www.lawrencehits.com, which is owned by BriarCliff.
• Frank and Sally Salb of Salb Construction, Inc. in Lawrence announced they were selected as third-place finishers in the 2013 Deckorators' Best Deck Contest, which recognizes outstanding outdoor spaces. According to a statement, the competition received over 100 entries from across the country. Judges operated on the criteria of creative use of materials and overall appearance.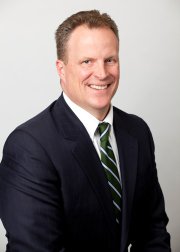 • INTRUST Bank announced Doug Gaumer will be promoted to Regional Market President for the Northeast Kansas region. Gaumer holds a masters degree in business administration from Kansas University and has also earned degrees from Kansas State University and the University of Wisconsin-Madison. He is currently the chairman of the Lawrence Chamber of Commerce and a board of advisors member for the KU School of Business.
Copyright 2018 The Lawrence Journal-World. All rights reserved. This material may not be published, broadcast, rewritten or redistributed. We strive to uphold our values for every story published.