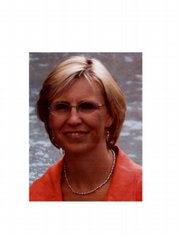 In September, more than four years after the death of his wife by errant gunfire, Joe Lieber received a call from Kansas City, Mo., detectives informing him that the long search for the suspect was over.
Since the late summer night when Deanna Lieber, a 45-year-old Lawrence resident well known in the education community, was killed while driving her then 13-year-old daughter and her mother-in-law from a Starlight Theatre production, two detectives worked to bring charges against the man who they alleged fired the fatal bullet.
"I'm just very happy police stuck with it," Joe Lieber said Friday. "It was a long case and those two detectives, they started and they ended it."
Calah Johnson, a 32-year-old Kansas City, Mo., man, will be arraigned on one count of second-degree murder and one count of discharging a firearm from a motor vehicle. Johnson, already serving a 20-year federal sentence for cocaine trafficking, is alleged to have been firing at another car when a bullet entered Deanna Lieber's Dodge Durango, striking her neck.
"We're obviously very thankful he's off the street to begin with," Joe Lieber said. "We're very thankful charges are being brought and hope they are successful. Whether or not there were charges, we have to go on and live our lives. That's what people do."
Deanna Lieber, who was a general counsel for the Department of Education after having spent years as a law clerk for Kansas Supreme Court justices, was survived by her husband and two children, Tessa Lieber and Dustin Hoyt, the latter from a previous marriage.
On the night of Lieber's death, Tessa sat in the passenger seat and Lieber's mother-in-law, Beverly Lieber, sat in a back seat as the three drove home from Starlight Theatre, at which the family had season tickets. According to court documents, Tessa later told police that she heard glass break in her passenger-side window and felt pain in her head as her mother began to drive off the road near the intersection of U.S. Highway 71 and 59th Street. Beverly Lieber also reported hearing a loud boom that preceded Deanna Lieber's losing control of the Durango. As a result, Tessa Lieber also suffered glass and metal fragments in one of her eyes. She's doing well today, Joe Lieber said, and is in her first year at Kansas University studying business marketing.
Meanwhile, Dustin Hoyt, now 24, is working with the Missouri Department of Transportation.
"We do all have this hole in our lives that will never go away," said Joe Lieber, who still lives in Lawrence and works in engineering in Kansas City. "But we owe it to her to go on living."
Joe Lieber said Deanna lost her first husband, Bob Hoyt, when he was electrocuted on the job in 1989. In 1992, she married Joe Lieber in St. Joseph, Mo.
The first break in the case came when detectives, viewing the city's traffic video, identified two vehicles that appeared to be involved in a chase along 59th Street that coincided with the shooting at the street's intersection with U.S. Highway 71. On the video, according to court documents, detectives could see Lieber's passenger-side window break. Two vehicles and their license plate numbers were captured. Less than two months after the shooting, police tracked down the owners of the vehicles, which included a woman who, according to court documents, told police she lent her Mercury Mountaineer to Johnson for the evening. In the documents, the woman, identified as Johnson's girlfriend, told police he apologized to her for receiving a traffic ticket for running a red light at the intersection and that he told her he observed a Durango sitting in the median surrounded by police tape.
In 2012, another witness picked out Johnson from a photo lineup and identified him as the man he saw shooting from a green SUV at the other vehicle seen involved in a pursuit on the traffic camera.
And just this past July, according to court documents, police interviewed a subject who said that Johnson said that he was the one "that shot the school teacher in July of 2009." The interview subject added that Johnson was firing at another man with whom he had an ongoing feud over a burglary at his girlfriend's apartment.
On Friday, Joe Lieber said he didn't plan to attend Monday's arraignment, but that he and other family members may attend future court proceedings.
"My son and my daughter no longer have a mother," Lieber said, "and that's never going to change. I hope he's prosecuted, but that doesn't really change her not being here."
Copyright 2018 The Lawrence Journal-World. All rights reserved. This material may not be published, broadcast, rewritten or redistributed. We strive to uphold our values for every story published.