Photo Gallery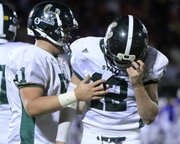 Free State football at Olathe North (playoffs)
Olathe — Free State High senior quarterback Joe Dineen was standing in the middle of the field Friday night, trying to make his words swim through a river of tears, beating himself up, attempting to take all the blame, feeling as if he had let down teammates with whom he had played for 10 years, the guys he chose to play with when making his decision on where to go to high school.
Walking across the field on his way to meet old friend Bob Lisher, the Firebirds' coach, Olathe North coach Gene Wier, in the moments after a 22-18 victory, spotted a crushed young man and showered him with genuine respect.
"That guy there is a hell of a player, if you guys don't know it," Wier hollered.
Classy move from a coach who is in pursuit of his seventh state title.
"He's a great player," Wier said of Dineen. When told how hard Dineen was being on himself after a night in which he was involved in several big plays for both teams, Wier said, "He shouldn't be. He willed them about 95 yards."
The game-ending drive that started at Free State's five ended in the opposite end zone on an interception.
"It was a heck of a drive, you know, several fourth downs he converted on," Wier said. "Tremendous player."
Wier knows talent. That's why he tried to get Free State coach Bob Lisher to join him in Texas as his offensive coordinator.
Wier won six state titles in a seven-year span (1996-2002) at O-North, then moved to Texas to take on a new challenge. He coached 22 years in his first stint in Olathe, left to coach in Richland, Texas, for nine seasons and is his second season back at Olathe North.
Wier's return to Olathe North has worked out well for him.
"It has. We're glad to be back," he said. "Guys like Bobby and Dirk (Wedd of Lawrence High) and them are great friends. I hate to see Bobby hurt, but I need to see my kids happy. That's how it works."
Free State's only two losses were in road games against Olathe North.
"I think it's a really talented football team," Wier said of the Firebirds. "Obviously, I'm going to give my kids credit for hanging in there, but some things went our way, and we took advantage of those."
Wier expressed no regrets about either leaving for or returning from Texas.
"I think it made me a better coach, I really do," said Wier, who is two victories from his seventh Kansas state title. "It gave me a different perspective. It did help me a lot. That's not a negative on here. It was time for Gene Wier to leave, and it's time for Gene Wier to come back. I'm very fortunate they took me back."
And the school is every bit as fortunate the coach wanted to return home.
Copyright 2018 The Lawrence Journal-World. All rights reserved. This material may not be published, broadcast, rewritten or redistributed. We strive to uphold our values for every story published.