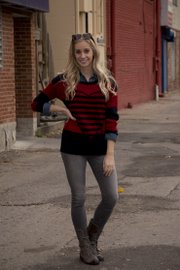 Sweater season has always been our favorite out of all the style seasons. We long for sweater weather all throughout spring and summer. Who knew that cozy knits in every fall shade imaginable could be a detriment to my bank account?
We tend to hoard sweaters in the fall and winter. We just can't seem to get enough of them. Each season they are designed with new, updated versions that are impossible to resist. Our quest for designer-inspired sweaters is continuous in order to avoid the $200-plus price tag. Thankfully, there are budget-friendly options that we found in a cute little boutique called Envy on Mass Street.
Every store around this time of year will carry cute and cozy sweaters, but it's the price tag you need to watch out for. Sweaters are considerably more expensive than other pieces because of the construction and the excess fabric. Speaking of fabric, a sweater that has an itchy feel could quite possibly be the worst feeling in the world. Any ounce of itchiness, and that sweater is tossed right back on the rack.
You can overlook the itchy feeling and wear a long sleeve undershirt, but it's usually not worth it. We'd rather spend our money on something that is stylish and fully comfortable. Even if you see the cutest sweater ever, but the second you feel the fabric there's a coarse uncomfortable feel … move on!
Now, back to our sweater finds from Envy. A sweater isn't just in the form of a top. There are sweater dresses, sweater leggings, sweater vests, and the list goes on. Envy's assortment includes all of these wonderful sweater-inspired pieces.
We found a trendy tribal-printed sweater dress with long sleeves and a fitted silhouette. We layered a mohair solid black cardigan over the dress for more coverage from the cold, and threw on a pair of neutral fall boots. We like the combination of tribal print and solid color because it gives the look just the right amount of contrast without too much chaos. This is a super comfortable fall outfit that can be worn for a day of shopping or even in a more casual work environment.
The second look embraces the layering style of fall. We chose to do three layers with a chambray shirt layered under a sweater, and topped it off with a parka-style jacket to again, combat the cold. Basic skinny jeans and lace-up boots tie it all together.
If you haven't checked out Envy yet, we'd advise you to do so for trendy fall and winter finds that won't leave you with a case of buyer's remorse.
— Emily and Elizabeth Kennedy are twin sisters and fashion bloggers who share a blog called Fashion Column Twins. They can be reached at fashioncolumnblog@gmail.com.
Copyright 2018 The Lawrence Journal-World. All rights reserved. This material may not be published, broadcast, rewritten or redistributed. We strive to uphold our values for every story published.