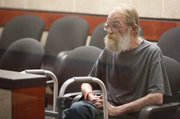 The 67-year-old Lawrence man charged with first-degree murder in the shooting death of his wife last week will be evaluated by a community mental health specialist to determine whether he is competent to stand trial.
On Wednesday, Douglas County District Court Judge Michael Malone granted a motion filed by Larry L. Hopkins and his attorney, Clinton Lee, requesting that Hopkins' competency to stand trial be evaluated before setting any further hearings in the case.
"Given the serious nature of the allegations, the alleged facts and the impact this ordeal has had on his well-being," Lee said, "I think it is paramount to proceed in this fashion."
Lee later replied yes to Malone's question of whether it was possible Hopkins may not understand the nature of the charges against him or if he could be unable to assist in his own defense.
Malone ordered an evaluation by a Bert Nash mental health specialist to be followed by a tentatively scheduled competency hearing on Nov. 20. If Hopkins is found competent to stand trial, Malone said, a preliminary hearing will be scheduled. If not, Hopkins will be transferred to Larned State Hospital for rehabilitation, after which it would be determined whether he could eventually become competent for trial.
If convicted, Hopkins faces the possibility of life in prison without the possibility of parole for 25 years.
Wednesday was Hopkins' first in-person appearance in Douglas County District Court since being charged last week in the Nov. 5 shooting death of his wife, Margaret Hopkins, 61. He again used a walker as he appeared before Malone but declined an offer to sit during his hearing.
Lawrence police and fire-medical crews responded to a shooting call after 8:45 a.m. on Nov. 5 in the 1600 block of West Second Terrace, where Hopkins was taken into custody and later arrested and Margaret Hopkins was declared dead from a gunshot wound. Police later alleged that Hopkins shot his wife over ongoing concerns about her health.
Also last week, neighbors and family described to the Journal-World the multiple health issues that afflicted the Hopkinses, who were married in 1989. Margaret Hopkins' sister-in-law, Theresa Benson, said Margaret suffered from failing knees in addition to diabetes, arthritis and nerve damage dating back at least to the 1990s. Meanwhile, Benson said, Larry Hopkins has had heart problems and suffered a stroke in recent years.
Copyright 2018 The Lawrence Journal-World. All rights reserved. This material may not be published, broadcast, rewritten or redistributed. We strive to uphold our values for every story published.