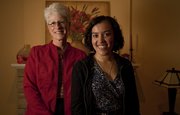 When Shai Jackson was just a little girl, she would ask her "big sister," Mary Seyk, one question, over and over: "Will we still be friends next year?"
"The answer was always, 'I'll be in your life for as long as you want me to be,'" Seyk said. "For pretty much the whole time I've known her, she's asked me that for reassurance."
After 13 years of being paired with Seyk, the longest match in Big Brothers Big Sisters of Douglas County's
Learn More
To learn about volunteering with Big Brothers Big Sisters of Douglas County call 785-843-7359.
history, Jackson knows she doesn't have to ask. Now 18, Jackson is confident that though they won't be known as "Big" and "Little" to each other anymore, she and Seyk will be friends for life.
"I don't see why our friendship would ever stop," Jackson said. "She plays a big role in my life."
Seyk and Jackson were paired through Big Brothers Big Sisters in 2000, when Jackson was 5 and Seyk 46. The two celebrated their 13th anniversary and the end of their official match in September.
Now that Jackson has aged out of the program, the pair has been called upon to talk about their friendship. In October, they spoke to Kansas University students involved in Big Brothers Big Sisters, and this week they are traveling to Wichita to meet with the Kansas board of directors for the organization.
People want to know how they have made it last.
"We've been asked a lot about what has kept us together," Jackson said. "We've talked about it, and, honestly, it's just a true friendship."
A long and enduring friendship
This friendship began with weekly get-togethers. Seyk and Jackson would do simple things: cook, go out for ice cream, watch movies.
As Jackson got older, the two found that they had a lot in common, and they would find themselves laughing during much of the time spent together. While looking back on their 13 years, they each tried to remember some moment when they didn't get along, when one was angry or upset with the other. But they can't remember ever having a fight.
As time went on, Seyk and Jackson did more extraordinary things. They spent time volunteering every month, adopted a poodle-mix puppy, Puffin, and they began to travel.
The pair started by taking small road trips through Kansas. On a couple of occasions, Seyk took Jackson to the Lake of the Ozarks, went boating, swimming and sightseeing. Then, they traveled to Springfield, Ill., and later, St. Louis. The first time Jackson went on a plane was when Mary took her to Mississippi to visit an old neighbor, and they've also vacationed in Florida and Tennessee.
"I know I've instilled that travel bug in Shai, because she just loves to travel now and is always talking about and planning something that she wants to do in her life," Seyk said. "I think she'd tell you that she'd love to go somewhere and see something else and be somewhere else, and I think that would be fabulous. I'll visit her."
Besides the "travel bug," Seyk said she hopes she's taught Jackson about truth, honesty and integrity. In return, Jackson has helped show Seyk what it is to have a long and enduring friendship.
Both women said that, though they are no longer matched through Big Brothers Big Sisters, nothing will change. They'll talk to each other at least once a week and continue to travel. Seyk will keep adding to the scrapbook she has made of their match, and maybe Jackson will one day have a "Little" of her own.
"I do hopefully plan on being a Big Sister one day," Jackson said. "And I want my Little Sister to look at me like I looked at Mary."
'The stars aligned'
Coincidentally, Seyk learned the very week of her and Jackson's anniversary that a scholarship account she created became large enough to endow.
Seyk created the Big Brothers Big Sisters Scholarship Fund through KU Endowment, where she is an employee. Throughout the last 13 years, she contributed a little bit to the account each week. The scholarship will be granted to a Big Brothers Big Sisters volunteer, "Little" or employee for the first time during the next academic year.
"The timing was perfect," Seyk said. "The stars aligned."
Copyright 2018 The Lawrence Journal-World. All rights reserved. This material may not be published, broadcast, rewritten or redistributed. We strive to uphold our values for every story published.