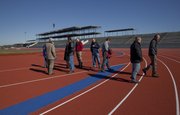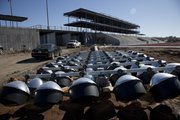 By Christmas, workers are expected to be raising walls at the city's new 181,000-square-foot recreation center at the Rock Chalk Park sports complex in northwest Lawrence, parks and recreation leaders said on Tuesday as they provided a tour of the construction site.
"We feel like we have been playing in the mud for quite a while, and then all of a sudden it really will start looking like a building," said Craig Penzler, an architect with CP Sports, which the city hired as a construction monitor.
Even before the walls are up, plans are being tweaked at the city's new recreation center at Rock Chalk Park.
Mark Hecker, assistant director of parks and recreation, said his department is working on plans to use about 7,000 square feet of the center that previously had been set aside for a wellness center.
As previously reported, Lawrence Memorial Hospital officials earlier this year indicated they were struggling to create a feasible wellness center at the site.
Hecker on Tuesday said the 7,000 square feet will be left largely open, although plans are being developed to install a kitchen in part of the space. That may allow the space to be rented out for receptions or other events, or it might be used for cooking classes.
But Hecker said the space also could be used to accommodate a variety of parks and recreation classes or other programming. Ideas mentioned include an indoor golf range or indoor batting cages.
"Basically, we want to get out there, get open and see what we need," Hecker said.
Penzler said the wet fall has challenged construction crews. Officials have set July 17 as a construction completion date, but Penzler said construction executives will determine in December whether the deadline needs to be pushed back.
"Sometime in the summer of 2014 is what we're planning for," said Mark Hecker, the city's assistant director of parks and recreation.
When completed, the center will house eight full-court gyms that can be converted into 16 volleyball courts, an indoor turf area, an eighth-mile indoor track, a fitness and weight room, a gymnastics area, outdoor lighted tennis courts and other features. The city-owned facility will be adjacent to a track and field stadium, soccer field and softball stadium being built primarily for Kansas University. Those facilities will be owned by a private firm run by Lawrence businessman Thomas Fritzel and will be leased back to Kansas Athletics.
On Tuesday, members of the city's Parks and Recreation Advisory Board got their first look at the site, just north and east of the Sixth and South Lawrence Trafficway interchange, since construction began in September. Among the sights:
• The running surface of the track and field stadium is installed and the concrete platforms for the stadium seats have been poured. KU officials have said they hope to have the stadium ready to host the Kansas Relays in April.
• Concrete for the soccer field seating also has been poured, and the field is awaiting installation of Bermuda turf grass.
• Concrete work is largely completed on the approximately 1,500 paved parking spaces that will serve both the city and KU parts of the complex.
• Slab after slab of concrete has been poured at the recreation center site to accommodate the eight wooden gymnasium floors that will be installed later. Crews also have poured all the concrete walls for the site. The walls currently are laying flat on the ground. Cranes will tilt them upright and put them in place around Christmas, Penzler said.
Once the walls are in place, the building could be enclosed by February and interior construction could begin.
Members of the parks and recreation board also got to see the enormity of the site. The city portion of the project covers about 26 acres. The KU-oriented part of the project is on about 64 acres. Large parts of the site are still relatively undeveloped. A dense hardwood forest begins about 40 feet behind the back wall of the city's recreation center.
City officials envision a trail system that will run throughout the site and into an adjacent creek valley, but details on the trail won't be finalized until the end of the project, Hecker said.
"The wildlife down in the creek area is incredible," Hecker told group members Tuesday. "We think that is going to be one of the big advantages to this site. When we host a tournament, there is going to be other things for family and spectators to do once they get here."
But ultimately, it will be the facilities that will be the big draw, said Penzler, who specializes in designing sports complexes. Penzler said he is confident that KU and the city will be in the running for national events, especially for the track and field facility.
"There is no reason to think that we can't host national championships here," Penzler said. "Track coaches from around the country are soon going to figure out what this facility is all about, and they are really going to want to compete here."
Copyright 2018 The Lawrence Journal-World. All rights reserved. This material may not be published, broadcast, rewritten or redistributed. We strive to uphold our values for every story published.