For the first time since Kansas began testing all students in reading and math, overall scores fell sharply in both subjects in 2013, according to the State Report Card released today, and those declines showed up across all ethnic and economic groups and across all grade levels.
State officials said they could not say definitively what caused the decline, but they speculated much of it was due to the tests themselves, which have not changed in recent years even as classroom teachers have shifted their lessons to the new Common Core standards, known in Kansas as the "College and Career Ready Standards."
"The one thing I know is that the State Board (of Education) retired the old standards in 2010 and adopted the new standards," Deputy Education Commissioner Brad Neuenswander said.
Others, however, are sure to argue that the lower scores are due at least in part state budget cuts in education spending since 2009. That was a central claim in the school finance lawsuit now pending before the Kansas Supreme Court.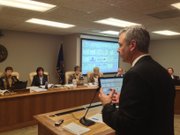 Education news
Have a story idea?
Contact Journal-World education reporter Elliot Hughes:
ehughes@ljworld.com
Neuenswander noted that 2013 was the last time those old tests will be used. This coming spring, the state will transition to new tests more closely aligned to the Common Core standards.
For that reason, officials said, the 2013 tests will not be used to determine whether schools meet state standards for accreditation.
Lawrence scores more stable
Students in Kansas take the reading and math tests each year in grades three through eight, and once in high school. In Lawrence, the decline in scores this year was generally less dramatic than it was elsewhere in Kansas.
Across all grades, the number of students in Lawrence scoring below proficiency in reading grew only a tenth of a percentage point, to 8.4 percent compared with last year, while the number of students scoring in the top, or "exemplary" category grew nearly a full percentage point, to 37.6 percent.
But in math, the number scoring below proficient rose sharply to nearly 14.9 percent, up from 13 percent a year ago. The number scoring in the top "exemplary" category fell four percentage points, to 30.1 percent.
Lawrence superintendent Rick Doll said he had only begun to sift through the report, but the overall trends were not surprising.
"We expected the drop because we have de-emphasized this assessment and are moving on to the Kansas College and Career Ready Standards," Doll said.
Statewide, 84.7 percent of Kansas students scored proficient or better on the reading test, down from 87 percent last year.
And in math, 78.3 percent met the state benchmark for proficiency, down from 84.9 percent in 2012.
Meanwhile, the proportion of students scoring in the lowest performance category, called "academic warning," grew in both subject areas while the percentage of students scoring in the highest, or "exemplary," category fell.
How the scores are used
In previous years, the state reading and math tests were used to measure Kansas' compliance with No Child Left Behind, which required schools to increase the number of students scoring proficient or better each year until 2014, when 100 percent of students were supposed to hit that benchmark.
But in 2011, Kansas was granted a waiver from those rules in exchange for adopting a new accountability system that measures each school's progress according to four goals:
• Increasing overall achievement levels
• Reducing the number of students scoring below proficiency
• Narrowing achievement gaps between the lowest-performing students and higher-scoring students
• And improved "growth," measured by a complex formula that tracks the number of students moving from lower performance categories to higher categories
In the first year of using that new system, however, the Lawrence school district met only one benchmark, the "growth" goal, while the state as a whole failed to meet any of them.
In particular, the State Report Card revealed that the achievement gaps actually widened in 2013.
Statewide among African-Americans, for example, the number scoring below proficient in reading rose nearly six percentage points, to 29.8 percent. Among whites, the non-proficiency rate grew less than two percentage points, to 10.2 percent.
The trend was even more pronounced in math, where the non-proficiency rate among black students rose nearly 11 percentage points, to 39.4 percent. But among whites, it grew a little more than 5 percentage points, to 16.2 percent.
Similar but less dramatic trends occurred in the Lawrence school district as well.
Copyright 2018 The Lawrence Journal-World. All rights reserved. This material may not be published, broadcast, rewritten or redistributed. We strive to uphold our values for every story published.