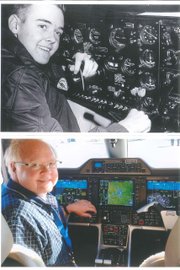 Longtime Lawrence resident Nelson Krueger has received the Wright Brothers Master Pilot award, which recognizes 50 consecutive years of safe flying without any incidents, accidents, violations or citations.
Krueger becomes the first pilot in Lawrence to receive the award, and his name has been added to the Federal Aviation Administration Master Pilot Roll of Honor.
Krueger, 66, said Monday he was bitten by the flying bug at the age of 8 when he took a short plane ride with a friend of his father's.
The flight from Hays back to Krueger's hometown of Natoma is still etched in his mind.
"I saw the name of our town on the water tower and how different it looked from the air," Krueger said. "I remember feeling the air, smelling the exhaust, all of the senses were just energized by being in the airplane. It just overran me and I have never gotten over it," he said.
Krueger flew solo on his 16th birthday, received his private license at 17, and was a commercial pilot with instrument rating at 18. He flew his first trip as a captain when he was 18 and became a flight instructor at 19 for the Kansas University ROTC program.
At age 21, he became a flight engineer and was Trans World Airlines' youngest pilot. He later trained TWA's first five female pilots, and in 2011 was inducted into the International Aviation Forest of Friendship by the 99's, the association of female pilots.
Krueger continues commercial flying and flight instruction at Hetrick Air Services.
During his career, Krueger flew Pope John Paul II on Shepherd One during a 1979 tour of the United States. While a pilot and instructor at TWA, he volunteered for 18 missions for the Civil Reserve Air Fleet, flying soldiers into the war zone during Desert Shield and Desert Storm.
Krueger also served for two years as Kansas administrative assistant to U.S. Sen. Bob Dole, is a member of numerous associations and helped found Leadership Lawrence.
Krueger and his wife of 46 years, Judy, have lived in Lawrence since 1967.
On Sept. 11, the day marking 50 years since his first solo flight, Nelson made six take-offs and landings at the Lawrence airport.
"It's a passion for me, flying. I can't remember a time when I didn't want to fly," he said.
Copyright 2018 The Lawrence Journal-World. All rights reserved. This material may not be published, broadcast, rewritten or redistributed. We strive to uphold our values for every story published.