Lawrence schools Superintendent Rick Doll has been named the 2014 Kansas Superintendent of the Year.
Cheryl L. Semmel, executive director of the Kansas School Superintendents' Association, made that announcement at tonight's board of education meeting. KSSA is a subgroup within United School Administrators of Kansas.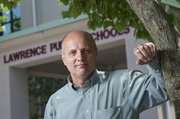 "I'm humbled by this recognition, which really speaks to my good fortune in working in several Kansas school districts with outstanding school board members, administrators, educators and support staff who truly care about what's best for kids," Doll said.
Doll has been superintendent in Lawrence since 2009. Before that, he headed school districts in Louisburg and Rock Creek. He served as assistant superintendent in McPherson from 1989 to 1993.
Doll earned his bachelor's degree in history and education from McPherson College. He later received a master's degree and doctorate in educational administration from Kansas State University.
Doll will represent Kansas at the American Association of School Administrators' national conference in February in Nashville, and will be considered for the National Superintendent of the Year award.
Copyright 2018 The Lawrence Journal-World. All rights reserved. This material may not be published, broadcast, rewritten or redistributed. We strive to uphold our values for every story published.