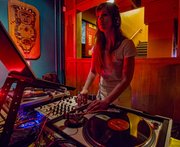 The Jack of All Trades: Kimbarely Legal
It started with live event. The people dancing, the vibrant lights, the photography capturing each moment. The art of music bringing masses of people together for one night.
Where she spins:
Eighth Street Taproom - First Fridays
The Replay patio - Third Fridays
And Kimberly Simonetti wanted to do it all.
Now known as percussive-based groove DJ Kimbarely Legal, as well as Lawrence's mainstay female DJ, Simonetti's fascination with live events as a music promoter sparked her interest in DJing.
After all, music is the center of it all.
"Fun, exciting, engaging events — that to me is the core of what DJs can do," Simonetti says.
She spins Afrobeat, reggaeton, funk, hip-hop, moombahton, samba, salsa, bomba and plena, and remixes it with current U.S. music.
"If I can do all of it, then I'm happy," she explains. "There is no limit."
The Lawrence club scene offers a variety of venues to choose from. There will always be bars with clientele who seek top-40 mixes, Simonetti says, but she isn't limited to those places (although they do pay the bills). One of her monthly Taproom nights couples her dual passions for African drumming and DJing by bringing in drummers to play live alongside her set.
"The fact that I can do DJ-versus-drums and have it be a successful night, I don't think you get that in a lot of other places," she says.
Simonetti was a server at local eatery La Parilla for 10 years — that's where she got her DJ name, from Mexican co-workers who pronounced it Kim-bare-ly. But her background also includes involvement in choir, orchestra, band and piano. That experience, plus her obsessive love of music, gives Simonetti a broad base to draw from, whether it's pulling in heavy orchestral instrumentals or anticipating how the bass will drop out from one song to the next.
"Having that kind of web of musical knowledge is super important to being a DJ," she says. It's the whole point. You have to know what's going on now and the history of what has moved people."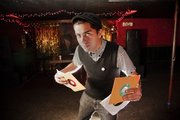 The Soul Machine: Hector the Selector
For soul DJ Chetan Mitchie, it's about uncovering stories. Spinning classic tunes from the '50s and '60s, he's more likely to find new music on vinyl records in someone's basement than on iTunes.
"It's a never-ending story for me," Mitchie explains. "Every record that I pick up has a story behind it, and I get to learn a little bit more about not only just the music, but the culture surrounding the music. What was going on at the time to make people write these songs? That's what really draws me into it."
Where he spins:
Eighth Street Taproom - Gold Label Soul nights
When Mitchie first started, he spun ska and reggae. His DJ name, Hector the Selector, references the proto-DJs in Jamaica who were in charge of selecting the records to play on a large stereo system for listening parties, when records used to be less affordable. By studying the progression of music and hearing crossover, Mitchie turned from ska and reggae to soul. And he's now the resident soul DJ at the Taproom.
Mitchie digs for his music at antique malls, on Craigslist and in record stores, local treasury the Love Garden being one of his best resources.
"The people there understand records on a supernatural level," he says. They don't just sell records, he says, but they are very good about being there for you as a resource to tell you where each came from and which related labels explore.
Often it's about searching through piles and piles of records to find a few gems. In San Francisco, he came across a small soul record shop owned by a 60-year-old man.
"I walked in and didn't leave for eight hours," Mitchie says. "I was just that enthralled with everything this man had. At one point, he even bought me a sandwich."
His DJing helps bring the stories back to life of lesser-known artists who put out a few 45s but then got lost along the way, he says.
"It's really cool to see people who may not have made a dime off of their music, and now their music is being played again."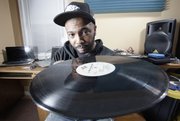 The Turntablist: DJ G Train
The proliferation of laptops and DJ software like Serato has led to a loss of innovation and technique, says Garrett Hannon, a turnatablist who scratches classic hip-hop as DJ G Train.
Where he spins -
DJ G Train also tours with hip-hop artist Approach.
The Replay Lounge
Tonic
The Jackpot
Saint's
Bottleneck
Quinton's
Fatso's
Hannon grew up in the Kansas City area, where he was introduced by friends to basic mixing, then attended traditional college for three years in New Orleans before dropping out to study DJ theory at New York City's Scratch Academy in 2004. There, students committed to a seven-week program with legendary DJ guest speakers who acted as mentors. Classes were taught on mixing, production and scratching, Hannon specializing in the latter.
"What other people didn't take advantage of is that if you just hung out there, they would teach those classes and you could hang out and watch," he says. "It was an expensive program."
Hannon learned the fundamentals of DJing using actual records and turntables, in a culture that thrived on beat juggling, scratching — manipulating and changing the tone of the sound by moving the record backwards with your hand — and DJ battles.
"DJing really is bragging with records," Hannon explains. "There are some people who are striving for it, and definitely have the head for it. But it's Kansas, you know. If you haven't seen it, you might not know where to go with it.
"Lawrence is still at a point where they're deciding if they want performance."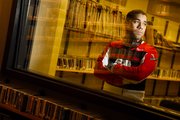 The Mad Scientist: Jon Sabillon
Deviating from the norm and bringing something new to the table is DJ Jon Sabillon's speciality. His mixes incorporate TV, film and video game scores with top-40 jams. Unexpected mash-ups include Phil Collins with the "Kill Bill" soundtrack; Waka Flocka Flame, Wiz Khalifa and "The Lion King" (with a hint of Jay-Z); and "The Little Mermaid" meets Madonna and The Beatles.
"It's pretty geeky, but I don't know of anybody who doesn't like it," Sabillon says.
He uses production software to create separate tracks, as opposed to making complete mixes, with the intention of sharing his work online, all for free. Sabillon's second online mash-up album got close to 40,000 thousand downloads and attention from Universal Music Group.
Universal hired Sabillon as a special-events DJ, taking him to venues in Los Angeles, Las Vegas and most recently to La Conche in Puerto Rico.
"For those venues, I played typical mainstream music and tried to push the quirkiness to a level, but I know people aren't there to see how geeky I am," Sabillon says.
His long-term focus is on producing original music rather than DJing, in the footsteps of spinners like Avicii and Calvin Harris, who are famous for their DJing though some fans don't recognize the extent of their musicianship. Sabillon wants to take his craft to a higher level than just mixing other musicians' original work.
"It's like thinking a valet driver is so cool because he drives a Ferrari or a Porsche," Sabillon says. "He's driving all those cars, but they aren't his. It's other people's stuff."
Copyright 2018 The Lawrence Journal-World. All rights reserved. This material may not be published, broadcast, rewritten or redistributed. We strive to uphold our values for every story published.