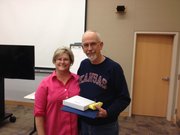 When Terry Copeland's husband fell ill to cancer years ago, he was able to count on her for a ride to the hospital whenever he needed treatment. During those trips, though, Copeland remembers overhearing other people in the hospital say getting a ride wasn't always a sure thing for them.
Those moments resonated with Copeland. Once her husband defeated the disease and regained his strength, she enlisted in the American Cancer Society's Road to Recovery program, a volunteer service that shuttles cancer patients to and from their appointments.
Now "two or three years" into the program, Copeland, her husband and 12 other Douglas County volunteers were recognized in a small ceremony Wednesday for their stewardship.
"It kind of broke my heart," Copeland said, referring to other patients' lack of a ride. "I know how important it is for cancer patients to receive their treatment and on time."
Members of the program gathered at Lawrence Fire Station No. 5 for pizza and recognition for their service. Deb Parsons, the mission delivery manager for the Douglas County chapter of Road to Recovery, said the group of 14 volunteers have provided a total of 179 rides so far this year.
Parsons said the majority of the volunteers have been a part of the program for about five years. She said most rides are to Lawrence Memorial Hospital, but some drivers have gone as far as Kansas City.
"Truly, without the rides you provide, there are people who would not get to their treatment," driver coordinator Julie Sieve said.
Volunteers grabbed plates of food and chatted at the same table before a presentation that awarded each of them a certificate and key chain. One volunteer, Donald Raybern, received the High Road Award, for delivering the most rides of the group.
During an exercise in which each individual introduced his or herself, several volunteers identified themselves as cancer survivors or the family member of someone who once had it.
Copeland described the program as a rewarding experience that allowed her to meet wonderful people.
"It's pretty easy to make friends when you're doing something generous to help people," she said.
Copyright 2018 The Lawrence Journal-World. All rights reserved. This material may not be published, broadcast, rewritten or redistributed. We strive to uphold our values for every story published.