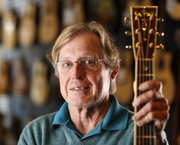 I had never heard a $13,000 chord before.
Of course, I had never sat in a room full of guitars that could pay off my mortgage. The adjacent closet full of six strings could buy me a beach house.
Jim Baggett goes from one vintage guitar to the next like a carpenter sorts through his tool chest. His perfectly calloused hands wrap around one model and strum a few chords. It sounds beautiful.
Then he grabs an older guitar from a stand — a 1930s model by the C.F. Martin & Co. — and strums a few more. It sounds better.
The first guitar has a $12,000 price tag. The second one is marked at $25,000. Thirteen thousand differences, all hard to explain but so easy to hear.
"It is hard to describe sweetness," Baggett says.
For at least 30 years now, Baggett has been trying to figure it out. As the owner of Lawrence's Mass Street Music, he's not only become Lawrence's Mr. Guitar, he's also become a true national expert on the instrument. He's an appraiser of stringed instruments for the popular Antiques Roadshow program on PBS, and it's nothing for him to casually mention how he's done repair work for the guitars played by The Rolling Stones and other icons.
I kind of want to hear more about The Rolling Stones, but it becomes obvious that's not the group that really interests him. He's infinitely more interested in the group of guitars that nearly cover his office floor in the 1880s building that serves as store and office.
"That one is $35,000," he says. "That one is $18,000. That one is $9,000 . . . "
Eventually, he picks up another one and strums some more.
"The difference between an ordinary guitar and a great guitar is that a great guitar has dynamic range," Baggett says. "When you play it softly, it sounds beautiful. When you play it hard, it just explodes."
I can hear it. But why? Why does a great guitar sound that way? Is it the wood, is it the strings, the shape? I have no idea, and Baggett has spent more than three decades trying to pinpoint it.
At the moment, though, it sounds too sweet to think about.
•••
Baggett, 64, didn't begin playing guitar until he was in high school. When he did, his mind didn't race with the standard dreams of becoming a rock star. Instead, it raced with a different thought: How do you build a guitar?
"Anything I've ever gotten into, I've built," Baggett said. "Model airplanes, go karts, I've always been a builder at heart. When I got into guitars, I just became fascinated with the structure of the guitar."
It was after he graduated from college in Missouri that he decided to try to build a guitar. He ended up with a job at a classical guitar maker in Kansas City. Soon enough, he spotted an opportunity in Lawrence, with its blossoming folk music scene.
In 1978 he opened a business called Michigan Street Music. In 1983 he moved into his current location at the corner of 14th and Massachusetts streets, and renamed the business Mass Street Music.
As part of its 30th year, Baggett and his 11-member staff have spent a good part of 2013 remodeling the store. New lighting and new display areas have been created, but the most noticeable addition for the pickers who frequent the store may be the new testing rooms — quiet areas where they can test out anything from a $500 model to a $250,000 model.
Indeed, quarter-of-a-million dollar guitars exist, and Baggett has had them pass through his hands. The most expensive guitar the famed C.F. Martin guitar company has ever purchased for its museum was a $250,000 pre-war Martin. Baggett, a Martin expert, is the man who found it and brokered the deal.
He loved that guitar, but he's loved so many of them. He used to work on the guitars for Johnny Cash. Cash's road manager actually lived in Lawrence in the 1980s. The guitars from The Rolling Stones started arriving at the shop after a California luthier — fancy word for a guitar craftsman — heard of Baggett's reputation and turned to him for help on getting an important guitar sounding right again.
There have been so many guitars pass through Baggett's life. But perhaps his favorite one is the next one he puts into somebody's hands. Baggett is of the opinion that a good guitar is an extension of a person's personality. When a guitar player finds that special instrument, Baggett feels like he's helped somebody find something that goes beyond music.
"With a good guitar, a person finds something in that instrument that expresses something they feel," Martin said. "I'm still fascinated by it."
30th Anniversary
Mass Street Music, 14th and Massachusetts streets, will hold a series of celebrations this month as part of its 30th Anniversary. On Thursday, the store will host a special display of guitars from Taylor Guitars. On Friday, the store will host an open jam session from noon to 2 p.m., and will feature performances by Brody Buster, the Sunflower Colonels and others. On Saturday, Truckstop Honeymoon will play at 11 a.m. An open jam session will begin at noon and be followed by performances from Pat Nichols, Jerry Hahn, Danny Pound, and others.
•••
But, how does it all work? What are those 13,000 differences?
I've spent more than two hours with Baggett now. I've walked around his store and been shown all types of fabulous guitars. I've been told the "greatest craftsman of our generation" is a guitar maker by the name of Bill Collings in Austin. I've been told about a guitar model so rare that only three were made. Collings, the maker, sold one on the market. Famed musician Lyle Lovett has one. Baggett is holding the other one.
It is all — to use a word Baggett uses often — fascinating. But it is not particularly illuminating. I still don't know what makes a great guitar sound great.
Baggett tries to explain. The choice of wood makes a difference, but not as much as you may think. This size of the guitar certainly matters. But Baggett said the biggest difference is craftsmanship. The attention to detail is what separates the good from the great.
I'm sure Baggett could give all types of specifics on that front, but I didn't ask for them. I wasn't going to understand them, and I sensed that they probably weren't going to provide me that elusive definitive answer anyway. Don't get me wrong, I'm confident I'll never meet another man who knows more about guitars than Baggett, but I'm not sure he really knows what makes a guitar sound great.
If you remember, Baggett got started in all this by wanting to build guitars. I asked him when the last time was that he built a guitar. He said it has been more than 20 years now. His guitar building stalled after he started listening to the beautiful sounds of the pre-war Martins that he is so found of.
"I realized that I wasn't ever going to build one that sounded better," Baggett said.
Maybe that is why they sound so sweet, because we don't know exactly why.
"I'm still fascinated everyday when I pick up a guitar. That is why all these guitars are sitting here," Baggett says of the old Martins that surround his desk. "I pick them up and play them and hear something different every time. They keep me curious."
Thirty years and still curious: Hard to explain. Wonderful to hear.
— Each Sunday, Lawhorn's Lawrence focuses on the people, places or past of Lawrence and the surrounding area. If you have a story idea, send it to Chad at clawhorn@ljworld.com.
Copyright 2018 The Lawrence Journal-World. All rights reserved. This material may not be published, broadcast, rewritten or redistributed. We strive to uphold our values for every story published.