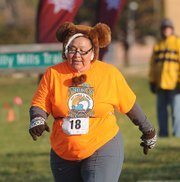 It would be inaccurate to report that all participants in Saturday morning's annual Turkey Trot 5K run/walk on the campus of Haskell Indian Nations University were powered by two legs.
Among the field of about 100 runners was a yellow lab named Lucky who lunged forward with Ken Fangohr, of Lawrence. The two have been running together for about four years, Fangohr said, and they were also joined by Fanghor's wife, Pam, a Lawrence High School teacher. The biggest challenge, Ken said, is containing Lucky's barks at the starting gate.
"He can't get enough of this stuff," he said.
Andy Freeman, a 17-year-old LHS cross-country runner, first broke the finish line at around 18:23 to take home the overall prize. Not far behind him was fellow LHS runner Keegan Mathis, 16. How did this race compare with the course on which they've competed this fall? "Us getting first and second," Keegan joked.
Renee Merritt, of Lecompton, donned a brown, furry bear hat for the race, signing up after her husband, Bob, talked her into it.
"It's a little bit chilly now, but perfect," she said as she rounded a corner along the Billy Mills Trail with a lush backdrop of brown, yellow and orange fall foliage.
Brian Daldorph, the third overall finisher, finished in time to watch his daughter, Lucy, finish first overall in the women's division. Lucy Daldorph, 22, of Lawrence, herself a cross-country coach at LHS, finished the race at around 21 minutes.
"It was a little muddy after the rain," she said. "But it was still fun."
Division winners received a turkey from Checkers and the overall male and female top finishers took home a $50 gift certificate from Jock's Nitch Sporting Goods.
Copyright 2018 The Lawrence Journal-World. All rights reserved. This material may not be published, broadcast, rewritten or redistributed. We strive to uphold our values for every story published.