Like many people after last week's devastating tornado in Moore, Okla., Morgan Hines had an urge to help. And she was determined to follow through with it.
Hines, who recently finished her junior year at Kansas University, used some connections she had in the Oklahoma City area to organize a relief trip for herself and fellow members of Douglas County Young Life, a local Christian outreach ministry for area youth.
"A lot of people talk the talk: about doing good and about their faith. Morgan quietly lives it out," said Rick Mumford, area director for Douglas County Young Life, which serves nearly 1,000 local students, from middle-school to college age. "She's just so authentic in who she is and her identity."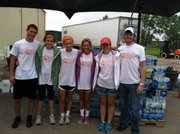 After Hines told Mumford what she planned to do, he put the word out to other students in his organization. Five more volunteered, and the group drove to Oklahoma City on Tuesday.
"We really wanted to serve God by helping people and doing what we could to give people hope," Hines said. "We see it as a time when we can lift people's spirits when they otherwise feel like they have nothing."
The six volunteers, who are all current or future KU students, assisted with a makeshift grocery store at a Norman, Okla., church set up to dispense the multitude of donations it had received. They also helped clean up the wreckage in the city of Moore, including at a 28-acre property strewn with debris.
"The amount of trash and garbage was overwhelming. The city was devastating," Hines said. "But it was amazing to see people, and really the body of Christ, come together to serve the community."
The students stayed at Christ of the Harvest Church, which partnered with Service International to coordinate its relief effort in Moore. The Lawrence contingent returned home Thursday night.
In Young Life, through various camps and mission trips, members learn that "there is a world out there in need of help and love and encouragement and assistance and understanding," according to Mumford. What stood out about this one is that it was organized by the students themselves.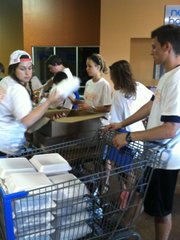 "I'm a lot like a proud dad," Mumford said Wednesday. "I'm just so thrilled to see that it's more than just information, but it actually soaks in and changes the way these kids look at the world. All those blood, sweat and tears we poured into these kids, and they are having an impact — it's kind of like payday for me."
Hines said the trip really helped put things in perspective for the group, showing them that life is about much more than material goods.
"Tragedies like this truly cause people to step back and realize that there has to be more to life than just what we see," she said. "Our possessions can be taken away in an instant and if we don't think there is anything else to life, everything we live for is gone and we have nothing."
Copyright 2018 The Lawrence Journal-World. All rights reserved. This material may not be published, broadcast, rewritten or redistributed. We strive to uphold our values for every story published.