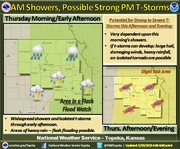 The National Weather Service has forecast severe weather to hit the northeast Kansas area Wednesday evening, while another band of storms could strike Thursday.
The NWS warns that "all modes of severe weather will be possible with this activity, including large hail, damaging winds, and the potential for a few isolated tornadoes."
Storms are expected to move into the Lawrence area Wednesday afternoon.
The intensity of the storms will diminish overnight, but increase again throughout the day Thursday.
As of Wednesday at 4 p.m., several counties to the west of Lawrence, such as Riley County, were under tornado watches. Leavenworth County, meanwhile, is under a flash flood warning.
Check LJWorld.com for updates.
Copyright 2018 The Lawrence Journal-World. All rights reserved. This material may not be published, broadcast, rewritten or redistributed. We strive to uphold our values for every story published.