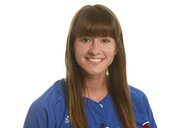 Kansas University's Maggie Hull was named a third-team All-American by the National Fastpitch Coaches Association on Wednesday.
Hull was a three-time NFCA All-Region selection and recently was named a first-team Capital One Academic All-American.
"At the beginning of the year, we said that talent was never enough and we each set goals for ourselves — no matter how unreachable they may have seemed — and I put down to become an All-American," Hull said. "Being an Academic All-American is a huge honor because it also represents what you do in the classroom, but from the day you start playing you dream of being an All-American. It is one of the coolest feelings I've ever experienced, truly a dream come true."
Just 11 Jayhawks have earned All-America honors a combined 16 times. Hull is KU's first All-America honoree since Serena Settlemeier was a second-team pick in 2006.
"That's the elite. That's the best in the country," KU coach Megan Smith said. "That's a testament to how hard she's worked throughout her entire career. For her to end that way, that is something special."
Hull was one of 54 players honored, with 18 players selected for each of the first, second and third teams. Only players that earned first- or second-team All-Region are considered in the NFCA's All-America voting procedure.
Hull was the Big 12 batting champ the past two seasons. Her .456 batting average broke her own school record and ranks third-best in Big 12 history.
At the conclusion of the 2013 season, Hull was in the top 10 in nearly every offensive category in the Big 12 rankings: batting average (.456, first), hits (73, first), doubles (18, first), triples (4, second), total bases (120, fourth), on-base percentage (.532, fourth), slugging percentage (.750, fifth), runs scored (45, tied for eighth) and RBIs (45, ninth).
Hull was the only Jayhawk to take the field in all 50 games this season and not record an error. The senior outfielder caught 71 of 71 chances hit at her in left this season.
Copyright 2018 The Lawrence Journal-World. All rights reserved. This material may not be published, broadcast, rewritten or redistributed. We strive to uphold our values for every story published.