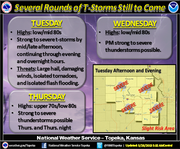 The National Weather Service issued a tornado watch until 10 p.m. Tuesday night for Douglas County and surrounding areas.
The NWS is also forecasting severe thunderstorms for much of the Lawrence area, beginning Tuesday afternoon and continuing into Thursday.
According to the most recent forecast, storms — which could include strong winds, hail, and thunderstorms — will begin mid to late afternoon Tuesday and continue into the overnight hours.
Several counties north and east of Lawrence are also under flash flood warnings.
Strong to severe thunderstorms are also expected both Wednesday and Thursday.
Click here to view the most recent radar from the NWS.
On Monday, between 1.5 and 2 inches of rain fell in the Lawrence and surrounding areas, according to the NWS.
Copyright 2018 The Lawrence Journal-World. All rights reserved. This material may not be published, broadcast, rewritten or redistributed. We strive to uphold our values for every story published.