Fay Bell was a sandrat. Eddie Jost was a blue belly. At the time, that was quite a problem.
Sandrats were residents of North Lawrence. Blue bellies were residents of Lawrence proper, emphasis on proper. A wooden bridge that spanned the Kaw stood between the two groups, and it acted like a wall most days.
Yet, here was Eddie Jost, showing up at Fay's door to converse and perhaps court. He'd ride his bike across the bridge, often times only to have it disappear: A casualty of the feud between sandrats and blue bellies.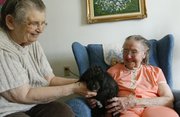 "I never understood it," Fay says. "Just because those boys didn't have any money to take me to a movie, I don't know why they cared that he did."
Perhaps you don't remember those days. But Fay Jost does. (Sorry, I should have given you a spoiler alert.) Fay turns 105 on Monday, and memories are a benefit of that age.
•••
Up until that blue belly, the men in Fay's life hadn't exactly been an all-star cast. Her father married his secretary, leaving Fay, her two sisters and their mother to fend for themselves in a North Lawrence home.
Her mother re-married — twice — but the stepfathers both left.
"They could leave us easy," Fay says.
Even a brother left, but for different reasons. He got sick, and died at 18 months old.
So her mother took to making ends meet by doing laundry and ironing for others. Fay still remembers horse and wagons delivering laundry to the house at 528 N. Third Street. Water was pumped from a hand well and heated on a wood stove. Clothes were cleaned on a washboard.
There's a lot to dwell on from those days, but Fay doesn't. Instead, she remembers the days when girls would grab handfuls of chalk and draw hopscotch squares on the sidewalks or hold competitions of double Dutch with the jump ropes.
"I guess I was a good jumper," Fay says. "The boys always would come to watch. But they may have just been there because they thought they were going to see my underpants."
Boys — not even time changes them.
But one memory from the time still rings clearer than the others. It was a day in high school when a boy knocked her books from her hand. There was a tussle between two boys, and Fay's books were the casualty. A teacher saw it all, though, and yelled at this Eddie fellow to pick those books up.
"I'm sure glad that teacher noticed it," Fay says. "If we hadn't met then, he never would have dated a North Lawrence girl otherwise."
•••
Fay was the puny one. Everyone in North Lawrence knew that. She would have fits where she would start coughing up blood and have to be confined to bed.
"Back then, X-rays were nothing," Fay says. "They would just tell us that they didn't know where that blood was coming from."
Much was different back then, and would be for a long time yet to come. Growing up in North Lawrence, Woodlawn elementary was the school for whites. Lincoln elementary was the school for "coloreds."
But when you crossed the bridge to go to high school, there were fewer separations. It was a source of worry for Fay's mother. She fretted about how her puny daughter would survive the tensions that surely would exist.
"She would tell me to watch myself when we walked to school on the bridge," Fay recalls. "She was afraid they were going to push me in front of a horse. It was horses back then. There weren't many cars."
But Fay did not fret. She told her mother that she had colored neighbors all her life, and that there was no real trick to getting along.
"You just treat them they way you are supposed to treat people," Fay said.
The worrying mainly was for naught anyway. Fay wasn't destined long for high school. She left after her sophomore year to attend the Lawrence Business College at Seventh and Massachusetts. Leaving school early to go into the secretary trade was a family tradition. Fay's two older sisters had both entered the business college after their sixth-grade years. The Bell girls had reached a deal to work in the office of the business college in exchange for free tuition.
There is a lot to dwell on from that time too: A sickness of health, a sickness of segregation, and a childhood cut short. But Fay doesn't dwell on any of it. Instead, she's more likely to remember the odd cure a doctor came up with for her unexplained condition.
Her mother had taken her to the physician and he immediately noticed her full head of long, heavy hair.
"He said 'look at the hair on that child. Maybe it is taking too much strength,'' Fay recalls. "I was the first child in school to have my braids cut off. I created a new fashion trend."
But if there are days that her memories begin to dwell on those more somber moments, there is a date that quickly gets her refocused: March 18, 1923. She was just a couple of months shy of her 16th birthday. Fay and her mother and Eddie and his mother met up for the day, and the two kids got married.
"I sure was lucky to run into him at that school," Fay says now.
•••
Eddie Jost was a "voicer" at Lawrence's Reuter Organ Company — a job that required an exquisite ear for tones and notes. But here's an odd thing about a man who made his living producing the finest of musical instruments: The one activity he refused to participate in was dancing.
Of course, Fay loved to dance. So, Eddie would take her to Woodlawn Park, where there was a bandstand. Eddie would wait in the car while Fay danced.
"One day he told me he was getting sick of taking me to the dance and watching some other guy hug on me," Fay says. "I told him I would make him a bargain: I would quit dancing if he quit smoking."
Only Fay held up her end of the bargain. Eddie died of cancer at the age of 59, although Fay is sure it was because of his time working during the war at the Sunflower Army Ammunition Plant, not the smoking habit.
Either way, the years would pile up without him. She had her two daughters and five grandchildren, and her signature 1964 Buick four-door hardtop. In 1990, she drove it into the parking lot of Vermont Towers, a senior apartment complex downtown, and she has lived there ever since.
"I have the dubious honor of being the oldest resident here, and I'm sure the most talkative," Fay says.
You can't blame her for that. In 105 years, there has been a lot to talk about. Certainly she's been asked to talk about the secret of it all many times. Why has a puny little girl lived to be 105?
"I only have good memories," she says. "I think that is why I'm living forever."
Maybe it is appropriate that Fay's birthday is on Monday — Memorial Day — a day that brings out all types of memories. Let's vow to dwell on the good ones this Memorial Day.
Who knows, maybe we can re-tell them at 105.
— Each Sunday, Lawhorn's Lawrence focuses on the people, places or past of Lawrence and the surrounding area. If you have a story idea, send it to Chad at clawhorn@ljworld.com.
Copyright 2018 The Lawrence Journal-World. All rights reserved. This material may not be published, broadcast, rewritten or redistributed. We strive to uphold our values for every story published.