Wichita — Just after Free State's Laura Kennard finished fourth in the 200 on Saturday at Cessna Stadium, coach Steve Heffernan came over to his star athlete Alexa Harmon-Thomas.
Photo Gallery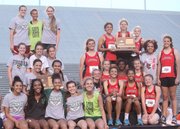 2013 Class 6A state track and field finals
"I've got a secret for you," he said. "We just won state. Now keep it a secret."
The coach knew that wasn't going to happen.
A few minutes later — with coach's permission — Harmon-Thomas made it over to the team tent at the 6A state championships, yelling to her teammates, "We won state!"
What followed was jumping, screaming, hugging and tears.
"Everyone's just so relieved and so happy," Harmon-Thomas said. "We've worked so hard, and we knew we could do it.
"Everything just went right for us this weekend."
The Firebirds claimed their first state track title with 94 team points, easily outdistancing second-place Olathe East (81.5).
It finished off a three-year progression for FSHS: The Firebirds were third in 2011 and second in 2012.
"I just finished talking with the Olathe East coach (Mike Wallace), and he said, 'You guys didn't make one mistake all day long. You didn't have one problem all day long. You were perfect. That hardly ever happens, so congratulations,'" Heffernan said. "Every kid came through exactly where they had to, when they had to."
That started with Harmon-Thomas, who accepted the team trophy on the awards stand before passing it around to her teammates so everyone could touch it.
The junior added two more individual titles Saturday, taking first in the 100 hurdles and 300 hurdles.
Harmon-Thomas' time of 14.11 seconds in the 100 hurdles beat the previous 6A state record of 14.18 seconds set by Topeka High's Janelle Wright in 2000. It was a new personal record and also the 10th-best 100 hurdles time ever in the state of Kansas.
Harmon-Thomas called it "redemption" after she tripped on a hurdle in the preliminaries of last year's 100 hurdles at state.
"I was focused on being quick in between the hurdles and getting my feet put down," Harmon-Thomas said, "because when I do that, I'm a lot smoother in my race."
Teammates Gabbi Dabney and Kiara Clark immediately found Harmon-Thomas, embracing her for a long hug after she set the new 6A record.
Harmon-Thomas added her name to the record books again in the afternoon, winning with a 6A state meet-record-tying time of 42.70 seconds. The junior's previous personal record was a 44.01.
"I just knew I was ready to do something big," Harmon-Thomas said. "I was feeling good."
The junior's final weekend tally was three firsts (100 and 300 hurdles, long jump) and one second (high jump), as she earned 38 team points in all.
She still had plenty of help.
Teammate Bailey Sullivan added a victory in the 1600, winning with a time of 5:12.29. She also was second in the 800 (2:22.64).
The junior admitted she had been unable to control her tears since finding out the Firebirds had won state.
"Some of my best friends are on this team," Sullivan said, "so that makes it even better."
Laura Kennard added a third-place effort in the 400 (59.03) and a fourth-place showing in the 200 (26.89).
Though she didn't know it at the time, Kennard's 200 run actually clinched the title. With two events left, the Firebirds needed one additional point, meaning Kennard just had to avoid getting disqualified for Free State to seal the win.
"It was so exciting," Kennard said, "because I had no idea we were that close to winning."
Scout Wiebe contributed a fourth-place showing in the javelin (129 feet, 5 inches), while Clark (third, 300 hurdles; sixth, 100 hurdles), Dabney (seventh, 100 hurdles) and the 4X400 relay team of Sullivan, Mika Crews, Clark and Kennard (sixth) also contributed team points.
"I can't think of one kid that underperformed today," Heffernan said, "so it was a very good performance."
Dan Krieger paced the Free State boys, taking fourth in the pole vault with a clearance of 14 feet.
Stan Skwarlo (1600) and Nicholas Hocking (discus) also took sixth in their respective events.
The FSHS boys finished in 17th place with 15 points.
---
State track meet
Saturday at Cessna Stadium
Wichita
City results
Class 6A
Girls team results: Free State 94, Olathe East 81.5, Lawrence 44, Garden City 42, Gardner-Edgerton 37.5, Maize 35.5, SM East 35, Wichita East 29, Manhattan 25, Derby 24, Olathe Northwest 24, Olathe North 22, Wichita Northwest 20.5, Junction City 20, Olathe South 20, SM West 20, Wichita Southeast 19, Blue Valley North 16, SM North 16, Topeka 12, Blue Valley Northwest 12, SM Northwest 9, Blue Valley West 8, Hutchinson 8, Wichita South 8, Dodge City 6, Wichita Heights 6, Washburn Rural 4, Blue Valley 3.
Boys team results: Topeka 70, Olathe South 61, Olathe East 60, Garden City 48, SM Northwest 47, Blue Valley 47, Blue Valley North 38, SM East 33, SM North 28, Manhattan 28, Dodge City 27, SM West 23, Blue Valley Northwest 21, Wichita South 20, Wichita Heights 19, Blue Valley West 16, Free State 15, Gardner-Edgerton 14, Olathe North 12, Hutchinson 12, Wichita East 10, Haysville Campus 9, Washburn Rural 7, Maize 7, Wichita Southeast 6, Lawrence 5, Olathe Northwest 5, Derby 5, Wichita Northwest 5, Wichita North 1, Junction City 1.
Free State
Girls
100 hurdles — 1. Alexa Harmon-Thomas, 14.11; 6. Kiara Clark, 15.72; 7. Gabbi Dabney, 15.89.
4x800 — 15. Free State (Molly McCord, Morgan Noll, Christina Craig, Claire Sanner) 10:26.03.
Javelin — 4. Scout Wiebe, 129-05.
1600 — 1. Bailey Sullivan, 5:12.29.
400 — 3. Laura Kennard, 59.03.
Triple jump — 11. Brianne Martin, 33-10.75.
300 hurdles — 1. Alexa Harmon-Thomas, 42.70; 3. Kiara Clark, 46.17.
800 — 2. Bailey Sullivan, 2:22.64.
200 — 4. Laura Kennard, 26.89.
4x400 — 6. Free State (Bailey Sullivan, Mika Crews, Kiara Clark, Laura Kennard) 4:14.56.
Boys
Pole vault — 4. Dan Krieger, 14-00.
Long jump — 12. Demarko Bobo, 20-2.50.
1600 — 6. Stan Skwarlo, 4:26.84.
Discus — 6. Nicholas Hocking, 152-09.
800 — 6. Stan Skwarlo, 1:58.66.
Lawrence
Girls
Javelin — 10. Monica Howard, 110-7.
Discus — 1. Matia Finley, 139-11; 2. Rebecca Finley, 135-07.
1600 — 4. Grace Morgan, 5:19.71.
4x100 — 8. Lawrence (Alex Hilliard, Kyleigh Severa, Marissa Pope, Jensen Edwards) 50.34.
4x400 — 1. Lawrence (Leah Gabler, Marissa Pope, Jensen Edwards, Kyleigh Severa) 4:02.47.
Boys
100 prelims — 12. J.D. Woods, 11.42.
Long jump — 16. Erik Parrish, 18-05.50
Copyright 2018 The Lawrence Journal-World. All rights reserved. This material may not be published, broadcast, rewritten or redistributed. We strive to uphold our values for every story published.