Kansas University senior softball player Maggie Hull's relentless self-improvement agenda earned her what both she and her coach called the most meaningful of her many honors when she was named Thursday first-team Academic All-American by the College Sports Information Directors of America.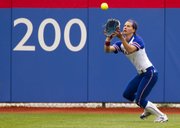 "As we're recruiting new players we can say to them, 'We're serious about academics and athletics. Look, we have an Academic All-American,'" Hull said.
She said she learned of the honor Thursday in a phone call while she was packing for a Saturday trip to Chicago, where she will start her career as a member of the Chicago Bandits of the National Pro Fastpitch league. Hull was the 11th overall selection in the league's April draft.
Hull cited time-management skills as a key to being able to juggle her softball demands with a double major in journalism and Spanish and with plans she has handled for her July 5th wedding to Kevin Tietz, like Hull a "third-generation Jayhawk" and a personal trainer at The Summit in Lawrence.
Hull said she has managed to juggle her multiple interests in a way that each is able to enhance the other.
"My fiance, Kevin, has been a great person to confide in about the team or encourage me," she said. "In terms of the wedding planning, I find the pockets of time for that, and it has been a good break from softball. As far as studying, I take advantage of being on the road (for KU softball trips)."
She graduated with a Bachelor of Science in journalism and a Bachelor of Arts in Spanish with a cumulative 3.8 grade-point average. As is her twin sister, Rosie, Hull is a three-time Academic All-Big 12 first-team selection.
She made 210 consecutive starts for the KU softball team, and her year-to-year batting averages speak to her constant growth: .253, .346, .409, .456, the last two being KU season records. Her .368 career batting average also is a school record. In the recently completed Big 12 season, Hull led the conference in batting average and doubles and also ranked in the top five in triples, total bases, on-base percentage and slugging percentage.
"I'm most proud of her defensive improvement," KU coach Megan Smith said of Hull's softball development. "She has become a phenomenal defensive outfielder, and that was a struggle for her in the past."
Hull did not make an error, handling 71 chances in left field.
"It can start with the little things," said Hull, a graduate of Free State High. "I never take a rep off in the weight room."
Hull, one of three outfielders to earn first-team honors, was the third player in Kansas softball history to earn the distinction, joining Sheila Connolly (1987) and Stephani Williams (1991-94).
Copyright 2018 The Lawrence Journal-World. All rights reserved. This material may not be published, broadcast, rewritten or redistributed. We strive to uphold our values for every story published.