Memorial Day weekend is upon us, the time each year when Americans fill up the pool, dust off the grill and load up the family in the car for an abbreviated vacation. Several events are planned locally to celebrate the holiday, in which we remember U.S. soldiers lost in battle and mark the unofficial start to summer.
Local residents will have their first chance to swim in the public pool this weekend, as the Lawrence Outdoor Aquatic Center, 727 Kentucky St., opens Saturday at 1 p.m. Admission is $4 for adults and $3 for kids and seniors, while children 4 and under get in free. The pool will be open from 1 p.m. to 8:45 p.m. daily through Sept. 2.
Because of the ongoing construction at the public library, parking near the pool will be limited. City officials recommend either riding the T or parking in the New Hampshire Street garages at Ninth and Sixth ($1 a day), the Sixth Street lot between Vermont and Kentucky, the 300 block of Seventh or the 600 block of Kentucky.
Memorial Day weekend is among the best-attended times of the year at area parks and campgrounds.
"It's usually our busiest holiday," said Sherri Withers, administrative specialist at Clinton State Park, 798 N. 1415 Road. "Visitors do everything from boating to camping to hiking to Frisbee golf to going to the beach — all that kind of stuff."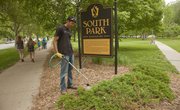 Most of the camping sites with utilities at Clinton had already been reserved as of midweek, though the park saves roughly 200 of the 400 total spaces for visitors on a first-come, first-served basis. Vehicle passes are $5 apiece, while camping is $8 a night plus an extra $9.50 a day for utilities and a $3 processing free.
On Sunday and Monday in the park's picnic area, the Heartland Coursing Association will hold its dog field trials from 7 a.m. to 3 p.m. each day. Dogs chase a guided lure around a course to see which can do it the fastest.
Over at the Clinton Marina, 1329 E. 800 Road, visitors can rent pontoon party barges and enjoy deli subs and pizza at the Submarina. Owner Megan Hiebert is gearing up for what she says is one of the business' three busiest weekends (Fourth of July and Labor Day are the other two).
"We're lucky enough to have only three feet of water missing from the lake," she said, compared with more than three times that gone from Perry Lake in Ozawkie. Even so, she added, Clinton Lake is the lowest she's ever seen it. "The lake is still navigable for boaters. The fishing's been great the last two and a half weeks."
Hiebert warned visitors that with storms in the forecast for this weekend, people should prepare for weather and be aware of their surroundings once at the park and on the lake.
Campers unable to find a site at Clinton State Park can also check out the Bloomington East and West parks. Bloomington East (700 N. 1190 Road) has family and group campsites for $10 to $50 a day, while Bloomington West (1299 E. 600 Road) has nonelectric group campsites for $125 a night.
Other area events scheduled for the holiday weekend include:
• The Abdallah Shrine Rodeo (Friday) & Demo Derby (Saturday) at the Leavenworth County Fairgrounds in Tonganoxie. Both events start at 7 p.m. and cost $12 (kids ages 6-12 get in the rodeo for $4).
• Memorial Day concert featuring the 312th U.S. Army Band at 1 p.m. Sunday at Watson Park, 727 Kentucky St.
• The inaugural 5K Home Run to benefit Family Promise and the Lawrence Community Shelter's family program at 8 a.m. Monday at the corner of Massachusetts and 11th streets.
• American Legion Dorsey-Liberty Post 14 Memorial Day ceremony at 10 a.m. Monday at Oak Hill Cemetery, 1605 Oak Hill Ave., with flag-retirement ceremony to follow at 10:30 a.m.
• American Legion Lloyd Beaton Post 228 Memorial Day observance at 10 a.m. Monday at Oakwood Cemetery in Baldwin City.
• Veterans of Foreign Wars Post 852 Memorial Day ceremony at 11 a.m. Monday at Memorial Park Cemetery, 1517 E. 15th St.
• Memorial Day ceremony at 11:30 a.m. Monday at Clinton Cemetery, 724 N. 950 Road.
Copyright 2018 The Lawrence Journal-World. All rights reserved. This material may not be published, broadcast, rewritten or redistributed. We strive to uphold our values for every story published.