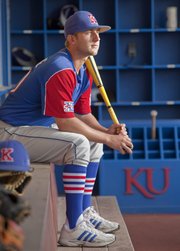 Big 12 tournament
in Oklahoma City
Thursday
9 a.m. — No. 4 Oklahoma vs. No. 5 Baylor
12:30 p.m. — No. 1 Kansas State vs. No. 8 Texas Tech
4 p.m. — No. 3 West Virginia vs. No. 6 Kansas
7:30 p.m. — No. 2 Oklahoma State vs. No. 7 TCU
Friday
9 a.m. —Oklahoma vs. Texas Tech
12:30 p.m. — Kansas State vs. Baylor
4 p.m. — West Virginia vs. TCU
7:30 p.m. — Oklahoma State vs. Kansas
Saturday
9 a.m. — Baylor vs. Texas Tech
12:30 p.m. — Oklahoma vs. Kansas State
4 p.m. —West Virginia vs. Oklahoma State
7:30 p.m. — Kansas vs. TCU
Sunday
1 p.m. — Championship (Pool 1 winner vs. Pool 2 winner).
-->
-->
Kansas University third baseman Jordan Dreiling has played baseball in more than a dozen states, a few countries and some incredible ballparks.
But none of those stops was as big as the one Dreiling and his KU teammates will make this week in Oklahoma City, site of the Big 12 tournament, which begins Thursday after being pushed back a day because of the devastation from this week's storms.
The fact that Dreiling still is playing the game he loves is a testament to his determination. Following the end of his senior season with Free State High, the Lawrence native reached out to KU coach Ritch Price about joining the Jayhawks.
"I knew I wanted to go to KU all along," Dreiling said. "So I went and talked to coach Price, and the only option was to come as a preferred walk-on."
Price remembers their first encounter well and still gets excited just talking about it.
"One of the things that we have tried to do is give the kids in the city who want to stay home the opportunity to play at Kansas," Price said. "And that's the reason I gave him a spot. When he told me that and I explained how the process was gonna go, usually that scares guys off. But not him."
There were plenty of reasons for Dreiling to be scared. Price's explanation of how his career could and likely would unfold included such warnings as "walk-on," "red-shirt," "no playing time for two seasons" and "extra work in the weight room."
"I made it real clear to him that he wasn't gonna be able to walk in here and play as a freshman or sophomore," Price said. "It was gonna be a process."
Although his role as a regular came late in his career, Dreiling earned playing time throughout his first few seasons. He red-shirted in 2009, played in 21 games as a red-shirt freshman and 40 games as a sophomore. Twenty-one of those appearances during his first two seasons were starts, including one of the most memorable experiences of his career, a weekend series at Louisiana State University.
"The Tuesday before I had made my first-ever collegiate start," Dreiling recalled. "So my second start ever was in front of 11,000 fans."
Dreiling started in place of injured third baseman Tony Thompson during the LSU series, and that was the first time he ever thought about playing third base. In the years that followed, he continued to fill in wherever necessary — second, shortstop, third, designated hitter — all the while showing that, if given the chance, he could deliver.
Price said he never envisioned entering a season with a 5-foot-11, 176-pound third baseman on the lineup card, but felt strangely comfortable doing it this season with Dreiling.
"Even though he doesn't prototype to play third, with the power arm and the power build, moving him there allowed us to take advantage of his athleticism," Price said. "It gave him one spot on the diamond that he could focus on playing and then let his bat keep him in the lineup every day."
Added Dreiling: "I guess I've kind of fit the role to me instead of fitting myself into the role. I kind of had to."
It was not difficult for Price to pinpoint the reasons Dreiling had been successful at third base, only difficult to limit the list.
"He's has the highest baseball IQ of any player on this team," Price said. "When I think about player development, where he was when he got here and where he's at now, he may have improved more than anybody we've had.
"He works counts. He understands how to stay within the strike zone. He's very, very good in his short-game execution. He runs well, as you can tell by his stolen base total (16). Another thing about him, he's an incredible teammate."
Dreiling is hardly the only reason the Jayhawks (31-24 overall, 12-12 Big 12) had their best regular season since 2010, but he certainly has played a key role.
Because KU preceded Big 12 tournament play with a six-game losing streak and, in doing so, likely played itself off of the NCAA Tournament bubble, Dreiling and company probably need to win it all this weekend to keep playing.
"If everybody just plays to their capability, I think we'll be in good position," Dreiling said. "If you've seen our team when everything's going well, we look like the team that the other teams are trying to beat."
If not?
"I've been playing my entire life," said Dreiling, who recently applied to graduate school. "It hasn't really hit me yet. But I'm sure whenever it comes, if I'm not playing, it's gonna be a big shock.
"I had always heard about the friendships you make playing here and the atmosphere and what I could expect and it's lived up to every bit of it. No matter what happens, I couldn't be more happy with my decision."
Sixth-seeded KU opens Big 12 tournament play at 4 p.m. Thursday against No. 3 West Virginia.
Jayhawks honored: Closer Jordan Piché, who just over a year ago was sending out emails to coaches so that he'd have a place to play, on Tuesday was named the Big 12 Newcomer of the Year and was named to the All-Big 12 first team.
Piché, who attended Indian Hills Community College for two years, led the league in saves. He is KU's first first-team since 2010.
"It's a great compliment to the year Jordan just had," Price said. "Look at the impact he's made on our team — we've got 31 wins, finished 12-12 in our league largely because he's been so special at the back end of our games. David Narodowski won the same award in 2009, and we made the NCAA Tournament, so hopefully it's a sign of good things to come, and hopefully we'll hand that ball to him with the lead a couple times this week in the ninth inning."
Teammate Michael Suiter was named to the All-Big 12 second team, and Alex DeLeon, Ka'iana Eldredge, Kevin Kuntz, Justin Protacio, Dakota Smith and Thomas Taylor earned honorable mention.
Copyright 2018 The Lawrence Journal-World. All rights reserved. This material may not be published, broadcast, rewritten or redistributed. We strive to uphold our values for every story published.