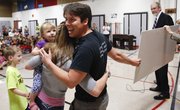 Ryan McAdoo, a kindergarten teacher at Hillcrest School, was honored today with the Lawrence Schools Foundation's annual "Bobs' Award," recognizing outstanding teachers in the Lawrence school district.
The award, which comes with a $10,000 check, was presented at an all-school assembly at Hillcrest this morning, the next to last day of classes for elementary students.
McAdoo, a graduate of Kansas University, joined the Lawrence district in 2009. He was featured in an April 21 article in the Journal-World as one of the few male teachers in Lawrence who works in early elementary education.
He currently is working on a master's degree as a reading specialist. He also is a former gymnast and has competed in national yoga competitions.
Jennifer Wilk, a colleague who teaches first grade at Hillcrest, described McAdoo as "an absolutely, incredibly unique and amazingly devoted teacher."
"His students are captivated by his animated lessons in all subject areas," Wilk said. "He knows his students, knows their needs and knows what to do to meet them."
The Bobs' Award is given each year to a teacher who "exemplifies extraordinary instruction skills; reflects commitment to quality education and dedication to teaching; focuses on individual student achievement; administers to the whole child, guiding each student to achieve his full potential; and is deemed to be proficient, caring, adaptable, and professional," the foundation said.
It is named after a group of anonymous donors who share the first name Bob, the foundation said.
The Lawrence Schools Foundation is a nonprofit charitable organization that raises money to enhance educational programs in the district.
Education news
Have a story idea?
Contact Journal-World education reporter Elliot Hughes:
ehughes@ljworld.com
Copyright 2018 The Lawrence Journal-World. All rights reserved. This material may not be published, broadcast, rewritten or redistributed. We strive to uphold our values for every story published.