Surrounded by a stadium full of family, friends and other well-wishers, the 344 graduates of Lawrence High School stood together one last time Tuesday night, walking one by one across the field to be handed their diplomas.
Photo Gallery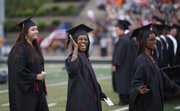 Lawrence High graduation
Images from Tuesday night's commencement ceremony at Lawrence High School.
From there, members of the 139th graduating class of Lawrence High will go their separate ways, but most said they will always keep a part of Lawrence High with them.
"I like all the teachers here and have so many friends here that I'm going to miss," said Kendra Vantuyl, who will soon be off to Utah to study nursing.
Keyty Ashcraft-Galve said she hasn't nailed down her plans yet, although she wants to become a teacher. She plans to spend a couple of years at Johnson County Community College, and then perhaps move to California.
"I don't know what kind, and I don't know what age, but that's all I've got so far," she said.
"It's kind of weird, and I'm not sure I'm ready for anything after this," said Randall Wingert, who will join the Navy and plans to serve on a nuclear submarine.
It took about an hour for all of the graduates to file across the field and have their names called out individually to receive their diploma. Meanwhile, a couple of beach balls were playfully batted around among the seniors.
Toward the end, as the evening air began to turn chilly, the finally sun broke out from behind the clouds, just long enough to brighten the stadium before setting beyond the horizon.
Finally, after the last senior walked across, posed for his portrait and returned to his seat, it was time for the celebratory tossing of the mortarboards high into the air.
Audie Monroe, one of the class speakers at the ceremony, said no matter where he goes, he'll always carry many memories of Lawrence High — classmates, teachers and coaches, the football and basketball games.
"I'll even miss the fragrant smell of tradition that LHS gives off," Monroe said.
"To the Lawrence High School Class of 2013, a farewell, but not a goodbye," he said.
Education news
Have a story idea?
Contact Journal-World education reporter Elliot Hughes:
ehughes@ljworld.com
Copyright 2017 The Lawrence Journal-World. All rights reserved. This material may not be published, broadcast, rewritten or redistributed. We strive to uphold our values for every story published.