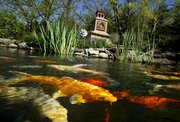 The gardens
Douglas County Extension Master Gardener Demonstration Gardens, 2110 Harper St., Lawrence: Features themed gardens, including xeriscape, a rain garden, herbs, raised bed vegetables, drip irrigation, a living wall, mulches and fairy gardens. Private Gardens (addresses included in Garden Tour ticket):
Naturally Designed for Entertaining
• Bogard residence —woodland garden, berms, dry creek bed, water feature, outdoor fireplace, garden rooms
Landscaping for Pollinators
• Plantings for butterflies, birds, bees and other pollinators; garden art; rain garden
Low-Maintenance Oasis
• Buffalograss lawn, low-maintenance plant selections
Edible Landscape
• Creative fruit and vegetable plantings, hops, water conservation practices
Four-Season Habitat
• Container gardening, creating garden rooms
Garden Design through a Photographer's Eye
• Designed by professional garden photographer, water feature, vegetable garden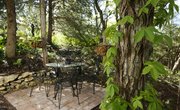 Looking for ideas to spruce up your yard? Want to see some of the Lawrence area's finest gardens? The upcoming Garden Tour, organized by the Douglas County Extension Master Gardeners, is the perfect opportunity to see the plants and practices that work best in this area. This year's Tour is set for June 1 and 2.
The 2013 tour boasts seven gardens with a variety of goals and design practices to appeal to any gardener. A map to the gardens is included in the Garden Tour ticket, which can be purchased at local garden centers; K-State Research and Extension – Douglas County, 2110 Harper St., Lawrence; or at any of the gardens on tour weekend.
One of the spectacular gardens featured on the tour is at the home of Mike and Jill Bogard in northwest Lawrence. The garden's key features are its natural woodland setting, outdoor rooms and entertainment space.
"We built the house back in the trees because we liked that setting," Jill explains while standing in the shade of a grove of elms and oaks.
The height and size of the trees give a sense of protection and longevity, although the house has only been in place a little over 10 years. In that time, Jill has worked extensively to create a seamless transition between managed space and woodland.
The result is an expanse of shrubs, understory trees and perennial flowers that flow into a wooded area with a botanic garden feel.
A winding path leads visitors through the side yard, where visitors can enjoy the fragrance of flowers and spaces that have just enough enclosure to feel like large, open rooms.
Jill notes the diversity of tree species — the existing stand included American elms, oaks and Kentucky coffeetree among others — but she has added a wide range of species herself. Blackgum and black cherry are two of the less-common species included in the garden, both of which perform well here. Two Golden Raindrops crab apples were also difficult to find, but Jill persisted in her search because of the distinctive fruit and graceful appearance of this variety of crab apple.
"I like unusual plants," she explains, "and I look for things that have at least three, hopefully four, seasons of interest. It needs to have a wonderful fragrance or great fall color, or something special, to get planted here."
The wide diversity of plants is complimented with hardscape: native rock; a path made of pavers, gravel and decorative grates; a dry creek bed; and statuary. In the back yard, the landscape frames a large water feature and outdoor fireplace next to stone patio.
The water feature includes a waterfall that adds the soothing sound of babbling water to the Bogards' entertainment space. Water flowing over the falls rushes into a pond with koi, goldfish and aquatic plants that give this space a natural feel consistent with the rest of the landscape. The fireplace was an addition last year that is just being finished.
Jill notes that her garden took time to become what it is today.
"I am a pretty patient person," she explains. "I just do a little at a time, and I use what I have."
Her patience has certainly paid off; visitors can see the beauty she has created June 1 and 2. Tickets are $10 per person and allow access into all seven gardens. For more information, visit www.douglascountymastergardeners.org.
Copyright 2018 The Lawrence Journal-World. All rights reserved. This material may not be published, broadcast, rewritten or redistributed. We strive to uphold our values for every story published.