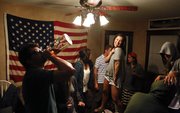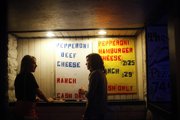 It isn't exactly a dish I had heard about on Food Network, but I like the sound of it: Rum Ham.
An exuberant female who probably is not going to become the next Rachael Ray is trying to explain. I catch bits and pieces, such as the involvement of a plastic swimming pool in the back yard, a keg of beer next to the swimming pool, and multiple people enjoying both devices.
But I'm still a little confused about the ham and the rum, until a slightly calmer voice chimes in.
"We bought a ham, we soaked it in rum, and then we just ate it," says Joe Schuler. "It wasn't hard."
Not hard, but perhaps genius. And people say there is no intellectual activity among Kansas University students on Stop Day.
Maybe you have forgotten Stop Day — the day has damaged many a memory — but it is the one class-free day that separates the last day of classes from the finals testing period. (In case you somehow missed it, it was on May 10 this year.)
For some, this Stop Day is the last one. There are just a few finals and a graduation ceremony left in their college careers.
"I'm going to miss it a lot," Schuler, a KU senior, says as the music blares, friends dance on the couch and the alcohol flows. "But I'm just trying to live it by the moment. You've got to do it while you can."
•••
Somewhere in the Oread neighborhood there surely must be a sign with that slogan on it: "Do it while you can." It's the mantra that hangs over this entire city. Maybe us adults who spend our time at City Hall meetings or PTO events or dinners where ham isn't bathed in rum have forgotten the mantra. But large groups of KU students — the fuel that makes this city's economy run — rarely ever forget it.
And nowhere in the city does the sentiment hang heavier than in the Oread neighborhood — the residential neighborhood largely east and north of the KU campus. The longtime epicenter of the Oread neighborhood is 14th and Ohio, where the tradition-rich bars The Wheel and The Hawk operate and tons of student housing is just a short walk away.
That intersection is where our photographer and I start our evening. And with the very first group of students we talk to, we get invited back to their house. It is just a little after 11 p.m., so they are just getting warmed up to go out to the bars.
We hear stories about the previous night — Stop Day Eve may be even wilder than Stop Day — when the party ended up on the roof, and a few folks spent the night out there.
And then there is the story about how timing is everything. One young lady — a graduating senior, I believe — tells us we needed to be just 30 minutes earlier. Why? Because 30 minutes earlier her hair was down to here, she says while pointing to a spot a bit above her navel. Now it barely touches her shoulders. In case we doubted her, she comes back with a handful of the freshly cut hair, places it on her face like a mustache, and parades for photos.
Maybe she can show them to Mom and Dad today to explain why her walk down the Hill includes a new 'do.
No, most stories don't make it back home. But, my, there are plenty of stories, even for those who are just getting started with their college careers. Kayla Pisoni is finishing up her freshman year. For the sake of her parents, I should disclose she wasn't at the rambunctious house party. She was behaving herself while having a slice of pizza outside The Wheel. But she had a simple sentiment on college and this Oread night scene.
"I want to be a freshman forever," she said.
•••
More genius. This guy is standing in the middle of a gigantic house party with a shirt that says: "This Guy Needs Beer."
Here, the beer is free. The cups are not. They're $5 apiece. It's an old trick to try to get around the illegality of selling alcohol without a license. It probably doesn't work any better today than it ever did.
But don't get me wrong, the cups are very popular. In this mid-sized Oread home, about 200 cups had been purchased by a little after midnight.
The music blares from a block away, and the flashing blue dance light spills out into the yard. The consensus seems to be that these house parties are better dance venues than many clubs. No, these parties don't have the same feel of a traditional bar "where everybody knows your name," but maybe that isn't such a big deal with this generation.
"I'm willing to just walk up to a place where I hear noise and just start meeting people. Lawrence is friendly that way," says a young college student who is friendly but not so much so that he wants to share his name with me.
A tenant of the house — also not a real big fan of names — says he and his two roommates have one of these parties "once a month-ish." (I don't think he was slurring his words. Yet.)
"It is a good time. We're just having fun," he says.
I watch the fun pass by a cup at a time while sitting on top of a washing machine. It's one of the few places where I don't have multiple bodies rubbing up against me.
Yes, there are a whole host of stories I could write here: Safety codes, underage drinking, noise. Ask any nonstudents who have ever lived in the Oread neighborhood, and they can give you the full list at a moment's notice. And yes, I'll probably hide this article from my two young kids. But tonight is not the night to dig into those issues or worries.
Why not? Because you wouldn't be living the mantra: Do it while you can.
•••
In one house, there are 10 guys. In the house next door, there are nine girls. Add them together, and you get a lot of friendships.
"I've had the best year of my life living next to these guys," Sally says. She's graduating today, and in a few more weeks will be a teacher. "Maybe you shouldn't use my last name."
That's the way it is with so many of them here. In a few more days, in a sense, they'll be somebody else. One will be an accountant with a major accounting firm, another off to medical school.
And then there is Joe Schuler, the man with the ham. Yes, we're back to the original house. There is probably hair on the floor, if you need proof.
Schuler is graduating and heading off to graduate school for civil engineering. He's already been accepted into KU, but there's a good chance he could wind up at another school.
Wherever it is at, he knows it won't be here. This time and place is just for a moment.
"I'll buckle down," he says. "After tonight, there won't be any more nights like tonight."
And then he goes into the Oread night. It's true: You've got to do it while you can.
But take solace: Grocery stores the world over sell ham.
Copyright 2018 The Lawrence Journal-World. All rights reserved. This material may not be published, broadcast, rewritten or redistributed. We strive to uphold our values for every story published.