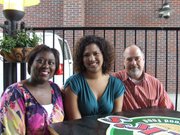 If you go
When and where
Both high schools plan to hold their commencement ceremonies outdoors in their respective football stadiums. The Lawrence High School ceremony is at 7 p.m. Tuesday, May 21. The Free State High School ceremony is at 7 p.m. Wednesday, May 22.
In case it rains
In the event of inclement weather, both schools have backup plans to move the ceremonies indoors to Allen Fieldhouse on the Kansas University campus. If that happens, Lawrence High officials will make an announcement by 11:30 a.m. and spread the word through local news media. Free State officials say they will announce by 4 p.m. Wednesday if the event has to be moved. They will send out automated telephone calls to the students' homes. People can also check the Journal-World website, LJWorld.com, and Lawrence school district website, www.usd497.org. Otherwise, plan on the ceremonies being at the outdoor stadiums.
When to arrive
Graduates are asked to arrive by 6:30 p.m. on their respective nights. In both cases, people should prepare for heavy traffic.
Where to park
At Lawrence High, people can park anywhere in the main parking lot. At Free State, park in the student parking lot on the north side of the building. Both schools will provide shuttle service via golf carts for people with mobility issues to help them between the parking lot and the football stadium.
Where to sit
At both ceremonies, graduates will be seated on the football field. Spectators will be seated in the stands on either side of the field.
What to bring
Feel free to bring bottled water if you think you might get thirsty. The concession stands will not be open, but there will be public restrooms available.
Photos and video
Spectators who want to shoot their own pictures or video are asked to remain in the stands. Do not go onto the field. Both schools will have professional photographers taking pictures as students walks across the stage to receive their diplomas. Those photography companies will send proofs to the families, and it is up to them whether they want to purchase prints. In addition, Firebird Productions will be livecasting the Free State ceremony over the Web at www.citylinktv.com/lawrence-free-state-hs-fstv. The live feed won't be available if the event is moved to Allen Fieldhouse, but it will videotape the proceedings.
When the graduating seniors walk across a stage to get their high school diplomas this week, they will represent the first purely 21st-century class in America.
Perhaps as much as any other person her age, London Koehn, a graduating senior at Lawrence High School, exemplifies what that experience has been like.
For one thing, there has been Internet service in her house since she was 3. By eighth grade, she carried a smartphone with wireless Internet access.
"That's when I got that first touchscreen phone," she said. "It was slow, but it was cool because I was one of the first people to have an all-touchscreen phone."
By the time she was in high school, she wouldn't imagine going to school without her cellphone, which could not only access the Internet faster, but could also store an entire library of photographs and digital music files.
And now, as she prepares to go off to college at Drake University in Des Moines, she's planning to study broadcast journalism, a field that has also been revolutionized by the same changes in technology and society that have shaped her generation.
Technology tidal wave
London's mother, Sheena Koehn, said it's hard to believe how much technology is available to this generation of students.
"Maybe I carried a dime to use the pay phone, but that was it," Sheena Koehn said, as her daughter laughed at the realization that pay phones have all but disappeared.
"There also was no Khan Academy," she said, referring to the website where students can watch videos to receive tutoring in math, science and many other subjects.
"Math is a lot different, too," said her father, Jim Koehn. When he was young, "there was just one way when we were in school. Now they might have four different ..." he then struggled to remember the word until London prompted him ... "strategies. So if one doesn't work, there are others. So I think the educational system has improved to that point."
Jeff Plinsky, one of Landon's teachers at Lawrence High, said technology has been a defining force for this group of graduates.
"What's different about this generation is what's different about education," Plinsky said. "When you and I started education, information was hard to come by, and so there was a premium on requiring students to retain information. The old-fashioned rote memorization style of education comes from a world where having data at the tip of your tongue, or instant recall, was a valuable skill."
"Today," Plinsky said, "we don't need instant recall because we have Google and Bing and Yahoo search engines. So these kids may retain less information by necessity, but that doesn't make them any less intelligent. Education is gradually shifting its focus away from the retention of information and toward the use of information, because electronically, information is retained for us."
But technology isn't the only thing that has shaped the lives of this year's graduates.
History and culture
London Koehn readily admits that she has no real memory of a time when the United States wasn't engaged in a war in Afghanistan — a war that began shortly after the attacks of 9/11, when she and her classmates were in first grade.
"It's really weird to think about," she said. "We've always been at it. It wasn't technically a declaration of war, but we'll always think of it that way. Always on the news, in the evenings, when you had to see the list of the people that died that day."
But while students in the class of 2013 have grown up in a time of turmoil throughout world, they seem to have developed among themselves a culture a greater tolerance and diversity than in previous generations.
For example, interracial dating, which in earlier times would have ignited controversy and actually was illegal in some states, is something these students rarely even notice.
"I don't think the kids have a problem with it anymore, but they still have to deal with heat from their parents," London said. "I think it's almost encouraged because we all kind of joke about where you're from, and it's almost like if you have more ethnicity, you kind of talk about that."
Part of that is a reflection of the rapidly changing demographics of the country.
From 2000 to 2010, according to the U.S. Census Bureau, the number of people identifying themselves as being of mixed race grew 32 percent. The number of people from white and black parents grew 134 percent.
Within the Lawrence school district itself, according to state data, the second-largest racial group behind whites is the catch-all category of "other," who make up nearly 15 percent of the student body.
David Reber, a science teacher at Free State High School, said he sees more intermingling among students of different backgrounds.
"There seems to be, at least from my observation, a lot less of this cliquishness and little subgroups that don't interact with one another," Reber said. "There was a lot of that around in the time when I started (in 1996) and it seems like there really isn't anymore. I have students from all walks of life and all ethnic backgrounds that are all good friends."
Plinsky said he sees that same kind of openness spreading into other kinds of student relationships as well.
"Today, interracial couples are a nonevent, and interestingly enough, we're seeing that same revolution happen again with same-sex couples," Plinsky said.
No Child Left Behind
The Class of 2013 also was shaped by a federal law that was passed when they were in kindergarten and signed into law their first-grade year: No Child Left Behind.
For students such as London, that meant taking a battery of standardized tests, beginning in third grade — tests that she says meant a lot more to the teachers and the schools than they meant to the students.
"Oh! I didn't like it," she said when asked about the tests. "But they always made a big deal about them and made you feel like if you didn't do well … they always gave us big incentives that if we did well we'd get a party or something. ... I just thought they were a pain."
But Reber said the tests may have had a bigger impact on the way this generation of students looks at themselves.
Some people call it the Lake Woebegone effect, the idea that all the kids should be above average. Reber calls it the "No Child Left Behind effect," the idea that all students must be proficient or better in all subjects.
"That kind of perspective, they've lived their whole life underneath that paradigm, and I think that shows to a large extent," he said.
Some things still the same
But for all the things that have changed in society since the time London and her classmates began school, a lot of other things haven't, at least not entirely.
Asked what she'll remember most about her school experience, she talked about Friday night football games, and the camaraderie of friends.
"I always thought it was really cool how the seniors would have a Facebook page, like before the Free State game, there would be a page where we'd go and decide what the student section was going to wear, or where they were going to tailgate and stuff."
And after the games?
"We'd go to Pizza Shuttle, and then go hang out at somebody's house."
Copyright 2018 The Lawrence Journal-World. All rights reserved. This material may not be published, broadcast, rewritten or redistributed. We strive to uphold our values for every story published.