When Free State High junior Bailey Sullivan raced to a personal-best time of 5:08.24 in the 1,600 last month at the Topeka Seaman Relays, she knew it was the top finish in Class 6A this season.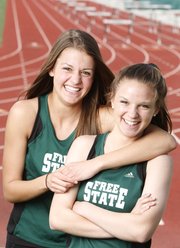 Stars of Class 6A girls track
No. 1-ranked city athletes, as rated by catchitkansas.com:
1600 — Bailey Sullivan, Free State, 5:08.24
High jump — Alexa Harmon-Thomas, Free State, 5-8
Long jump — Alexa Harmon-Thomas, Free State, 19-6
Discus — Matia Finley, Lawrence, 136-3
100 hurdles — Alexa Harmon-Thomas, Free State, 14.3
300 hurdles — Alexa Harmon-Thomas, Free State, 45.41
Her teammate Molly McCord, on the other hand, was kind of taken aback by the news. Not because she doubted Sullivan's ability to do it, but she took a lot of pride in her fellow FSHS junior's accomplishment.
"It's cool to be a part of that and say I'm on her team," McCord said.
McCord holds more personal interest in Sullivan's success than other Firebirds because the two started running together year-round when they were freshmen. They've both morphed from junior high sprinters into successful high school distance and cross country runners.
"It's all thanks to me," McCord joked of Sullivan's top time in the mile.
Headed into today's 6A regional at Lawrence High (3:30 p.m. start), Sullivan remains optimistic she can improve upon her time, even if someone else surpasses her — Sullivan is the first to point out she wouldn't own 6A's top spot if Shawnee Mission West senior Alli Cash hadn't been sidelined due to an injury this spring.
"I'd like to think I could go faster," Sullivan said. "With the mile, if you drop a second every lap, that's four seconds right there. It's harder to do than it sounds."
It would have seemed impossible before Sullivan and McCord started teaming up for offseason runs. McCord, who primarily competes in the 3,200 and 4x800 relay for Free State, remembers how out of place she felt at her first cross country practices more than two years ago: "They used to make us run around the school, and I had to walk."
Sullivan had similar woes. Her first assigned workout was to jog for five minutes and walk for 10. Now she runs eight miles, no problem: "That's kind of cool to be able to say."
FSHS cross country and track coach Steve Heffernan hopes to get a couple of girls and boys who will lead offseason runs every three or four years. He found that in Sullivan and McCord. Heffernan said Sullivan has progressed "light-years" since her freshmen season, when she was unsure about running track. Heffernan convinced her to try and watched Sullivan run an 800 at an indoor meet. He didn't think she would be an instant star, but after it took her 2:58 to finish, the coach thought, "Wow, we made a huge mistake."
Sullivan just needed some time. She and McCord, the only freshmen on Free State's cross country team in 2010, hit it off as training compadres. Their distance runs became increasingly longer, and their friendship grew. Now they push each other to improve and know each other so well one could order for the other at Noodles & Company.
Said a smiling Sullivan: "I don't think I could stand anyone else every single day."
Copyright 2018 The Lawrence Journal-World. All rights reserved. This material may not be published, broadcast, rewritten or redistributed. We strive to uphold our values for every story published.