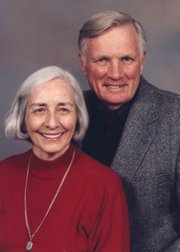 Hubert "Hub" Hall didn't always dream of a career in geology.
It wasn't until he enrolled in the class taught by a particularly inspiring Kansas University geology professor that Hall knew the field was for him, said his widow, Kathleen Hall of Lecompton. Hub Hall went on to work more than 30 years as a petroleum geologist, a job that took the couple all over the globe.
KU announced Tuesday that Kathleen Hall has made a $1 million leadership gift to establish the Hubert H. and Kathleen M. Hall Professorship in Geology at the school. The professorship's inaugural recipient will be Gene Rankey, KU associate professor of geology.
The Halls both earned bachelor's degrees from KU in 1949, and Kathleen Hall said her husband had other family ties to the university that made the professorship a good fit.
"His parents both graduated from KU, as did his two brothers, and their father was director of the KU Natural History Museum and head of zoology," she said. "So we've had a very soft place in our hearts for KU."
Hub Hall's geology mentor at KU was L. R. Laudon, "a spellbinding lecturer," Kathleen Hall said. Laudon left KU to teach at the University of Wisconsin, where Hub Hall went on to receive his master's and doctorate degrees in geology.
Hub Hall went to work for Standard Oil, now ExxonMobil, and led the company's exploration in Malaysia, the southeastern United States, the Middle East, North Africa, Ireland and England. He and his wife retired to Kansas in 1986, and he died in 2010.
The Halls' professorship is envisioned for a mid-career faculty member or an incoming professor. Recipients will have a research or teaching focus in sedimentary geology or in an area of research complementary to the energy industry.
A professorship is university or academic appointment that is supported fully or partly by earnings from a permanently endowed fund.
Previous gifts from the Halls have benefited other areas of KU, including the Natural History Museum and the Spencer Museum of Art, and created the Hall Nature Reserve, which is part of the now-3,400-acre KU Field Station, which Hub Hall's father also championed in the 1940s.
"Hub and Kathy have been tremendous friends to the entire university," Bob Goldstein, KU associate dean of natural sciences and mathematics, said in a KU news release. "This professorship leaves a legacy to the Department of Geology that will recognize that friendship for decades to come. It will assure that the department will attract and retain the best faculty members in a teaching and research area that is important to all."
Copyright 2018 The Lawrence Journal-World. All rights reserved. This material may not be published, broadcast, rewritten or redistributed. We strive to uphold our values for every story published.