Photo Gallery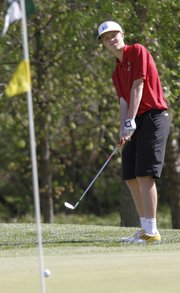 Class 6A golf regional
Regional results
Monday at Alvamar Golf Course
Team scores (top three go to state): 1. Free State, 321; 2. Olathe East, 328; 3. Lawrence, 339; 4. Olathe Northwest, 344; 5. Topeka, 355; 6. Olathe South, 364; 7. Olathe North, 397; 8. Gardner-Edgerton, 402.
Top 10 (medalists): 1. Alex Springer, O-East, 76; 2. Max Stucky-Halley, THS, 78; 3. Wilson Hack, FS, 78; 4. Alex Green, FS, 80; 5. Zach Spencer, OE, 81; 6. Jon Hughes, GEHS, 81; 7. Matt Siler, FS, 81; 8. Brett Van Blaricum, LHS, 82; 9. Nathan DeMars, ONW, 82; 10. Max Soto, FS, 82.
Top 5 state qualifiers from non-qualifying teams: Stucky-Halley, THS, 78; Hughes, GEHS, 81; DeMars, ONW, 82; Dillon Funk, ONW, 84; Matt Johnson, ONW, 86.
Free State results: 3. Hack, 78; 4. Green, 80; 7. Siler, 81; 10. Soto, 82; Jack Flynn, 88; Hunter Dedloff, 92.
Lawrence results: 8. Van Blaricum, 82; Brad Strauss, 85; Cole Cummins, 86; Tucker Sutter, 86; Narito Mendez, 87; Brent Cawhee, 96.
After watching each of Free State High's six golfers tee off and miss the fairway on hole No. 1 Monday morning at Alvamar Golf Course, coach Matt Gudenkauf began mentally preparing himself for the possibility of a disappointing day at a Class 6A regional tournament.
Clearly the players weren't overly concerned.
Wilson Hack (78), Alex Green (80), Matt Siler (81) and Max Soto (82) all finished as top-10 medalists, and the Firebirds won the regional title with a team score of 321 — beating out Olathe East (328) and rival Lawrence High (339), which also advanced their teams to state by finishing in the top three.
Green, a senior who finished fourth at the regional, triple bogeyed No. 1, then had back-to-back bogeys on Nos. 2 and 3.
"I was 5-over after three holes, which is pretty disappointing," Green said. "But I just hung in there and kept playing golf."
So did his teammates. Hack took third after a one-hole playoff for second with Topeka's Max Stucky-Halley. Siler finished in seventh place following his three-golfer playoff for fifth, and Soto earned 10th after a three-way playoff for eighth, won by Lawrence's Brett Van Blaricum. Free State's Jack Flynn shot 88 and teammate Hunter Dedloff finished at 92.
Only individual regional champion Alex Springer of Olathe East (76) posted a better score than Hack. But the FSHS senior had to settle for third, instead of runner-up, because he had already began looking forward to the state tournament next Monday at Meadowbrook Country Club in Prairie Village.
"I took myself out of it mentally once I got in and signed my scorecard," Hack said after losing a playoff on No. 18, "because I had totally forgotten the procedure here at regionals, that you play everything out (ties in the top 10). Mentally, I shut down: 'I'm done with golf for the day.' It was hot. I wasn't even in it."
Siler, Free State's No. 6 golfer, might have been the most surprising regional medalist, but Hack knew the sophomore was capable of playing well because he shot a 78 on April 9 at Eagle Bend. Green was impressed by Siler's regional score of 81, too.
The seventh-place medalist consistently attacked the course with his fades, and that helped his confidence.
"I played relaxed, too," Siler said. "It was a good day."
Lawrence senior Van Blaricum didn't know it at the time, but the 20-foot par putt he sank on 18 put him in the top 10 and a playoff for eighth place. After posting an 82, he didn't even expect to win a medal because he "blew up" on the back nine, with a 45. But the news of a playoff against Soto and Olathe Northwest's Nathan DeMars gave Van Blaricum new life, and his par-4 on the 13th secured his eighth-place medal after one hole.
"I wasn't really nervous," he said afterward. "I was still gonna place regardless, so I was happy to beat them."
One of four LHS individuals to qualify for state in 2012, Van Blaricum enjoyed the news of the Lions' third-place finish even more. Brad Strauss (85), Cole Cummins (86), Tucker Sutter (86), 2012 state qualifier Rito Mendez (87) and Brent Cawhee (96) will join Van Blaricum at state because Lawrence finished five strokes ahead of fourth-place Olathe Northwest.
Van Blaricum credited No. 4 LHS golfer Strauss and No. 5 Sutter for having strong days, because they have been up and down this season.
Strauss wasn't as pleased with his 85 as his teammates: "I guess they were surprised. I was expecting lower 80s," the senior said.
Certainly part of their marvel came from the fact this is Strauss' first season playing on any golf team. Still, with his help, LHS is state-bound.
"We didn't play our best today, obviously," Strauss said after no Lawrence player broke 40 on the back nine, "but a lot of us can go low, and we expect better things next week."
Hack said the Firebirds will be happy to see the Lions one more time at state.
"It's so awesome to go out as a senior and win regionals," Hack said. "I can't ask for much more than that, honestly."
Copyright 2018 The Lawrence Journal-World. All rights reserved. This material may not be published, broadcast, rewritten or redistributed. We strive to uphold our values for every story published.