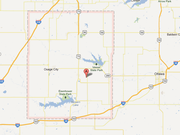 Authorities said Sunday they believe that 18-month-old Lana-Leigh Bailey was killed on the same rural Ottawa property last week as her mother and two men, and that her body was then moved to Osage County.
Franklin County Sheriff Jeff Richards said officials are confident that the body found in Osage County Saturday was that of Lana-Leigh. Final identification had not yet been made, he said, pending a forensic examination.
"I want the family of Lana, and all of the victims, to know that this investigation will continue until we are confident we have collected as much evidence as we can to ensure justice is served on behalf of all four victims," Richards said in an official statement. "Investigators from multiple volunteer, local, state, and federal agencies worked almost non-stop to find Lana since this horrific crime was reported."
The bodies of Lana-Leigh's mother, Kaylie Kathleen Bailey, 21, Andrew Adam Stout, 30, and Steven Eugene White, 31, were found Monday and Tuesday in and around a house at 3197 Georgia Road, about five miles west of Ottawa.
Kyle T. Flack, 27, has been charged with murder in the killings. Flack, who served four years for attempted murder in a previous case, is being held on a $10 million bond. He faces charges of capital murder in the quadruple homicide, which could lead to the death penalty. He will next appear in court on Monday afternoon.
Richards would not elaborate on many details of the case, such as exactly where the body was found or the items that were found near it, saying that releasing additional information could hinder the ongoing investigation.
Osage County, where the body was found, is about 20 miles west of where the other bodies were discovered. It's between Ottawa and Emporia, where police located Flack on Wednesday, as well as Kaylie Bailey's black Toyota. "The deputy was searching an area in his county because he thought it should be a target," Richards said. "This was the initiative of the deputy and it was good police work."
An Osage County Sheriff's Office deputy found items related to the homicides about 6 p.m. Saturday, Richards said, and Franklin County deputies were called to the scene.
About 10 p.m. Saturday night, investigators confirmed the body had been found. The Johnson County Sheriff's Office crime scene unit was requested to process the new crime scene.
"It is not the outcome we'd hoped for, but (we) knew we couldn't stop searching until Lana was home," Richards said early Sunday morning, when he announced that the body had been found. "We hope that this will help bring a little bit of closure to the family and friends of the victims."
The Ottawa killings have gripped the local community and drawn national media attention since the bodies were discovered early last week. Authorities said all of the victims had been shot.
But toddler Lana-Leigh was missing for days, touching off a search that involved as many as 150 law enforcement officers, including the Kansas Bureau of Investigation, the FBI and members of police departments from surrounding communities, including Lawrence.
They combed the farmsteads and fields around the rural Ottawa property on horseback and all-terrain vehicles, and with dogs. At first, there was hope the child would be found alive, but late in the week, after Flack was detained, officials said they believed Lana-Leigh was dead, and began searching for her body.
Richards said Saturday that the case is taking a toll on the officers, many of them parents, beyond physical fatigue. While some searchers have needed medical attention, the sheriff's office has also made chaplains available to the officers for counseling.
"It's tough for people," Richards said.
More than 400 hundred people attended a candlelight vigil in Ottawa Friday night to honor Lana Leigh and the other victims, and to support their families.
"Deep down, there's a lot of hurt," Scott Dickinson, pastor at Ottawa's Wesleyan Church, said at the vigil. "A lot of pain, a lot of questions."
Copyright 2018 The Lawrence Journal-World. All rights reserved. This material may not be published, broadcast, rewritten or redistributed. We strive to uphold our values for every story published.