Some of the women building a local resident's house Saturday had a lot of experience in construction.
Photo Gallery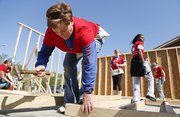 Habitat for Humanity Women Build
As for the others, a lack of experience didn't stop them.
More than a dozen women volunteers turned up with Lawrence Habitat for Humanity Saturday morning to lift the walls on the newest home in the 200 block of Comfort Lane in North Lawrence. The local arm of Habitat has built all of the houses on this street, harnessing volunteer labor to help provide new homes for selected residents. But this project was special, in celebration of National Women Build Week.
"For some, it's the first time they've driven in a nail," said Linda Jalenak, Lawrence Habitat's board president. "That's one of the exciting things, I think — watching these women, who've never really used a hammer, build a house."
The three-bedroom home will be Lawrence Habitat's 82nd house, and should be ready for Lawrence woman Troy Long, also working on Saturday's crew, to move in this summer. Hardware retailer Lowe's Home Improvement offered a $5,000 grant to Lawrence Habitat if the group could put together a crew of 75 percent women, and Saturday's work crew surpassed that mark, with only a few men on the job site.
Kamari Logan, a Lawrence mother of two, seemed comfortable swinging a hammer Saturday, having built three houses with Lawrence Habitat in the past. The next home on Comfort Lane will be hers, and the 16-year employee of Hallmark Cards will share it with her daughters, aged 17 and 15 months.
Lawrence Habitat has started a fundraising effort for that house, which will be just a few doors down from the one Logan helped build Saturday. It costs about $65,000 to build one of these homes, with donated materials and volunteer labor keeping costs down. Even inexperienced volunteers are welcomed, because professional builders donate their time to help supervise the job sites.
Logan said she's already come to know many of the people on Comfort Lane from helping build their houses, and looks forward to joining the neighborhood and continuing to build with Lawrence Habitat in the future.
"I feel grateful, blessed and excited," Logan said. "We'll have a lot of fun on the block."
For more information, visit lawrencehabitat.org.
Copyright 2018 The Lawrence Journal-World. All rights reserved. This material may not be published, broadcast, rewritten or redistributed. We strive to uphold our values for every story published.