Photo Gallery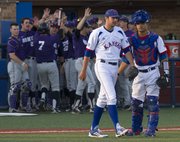 Kansas Baseball vs. Kansas State
With his leadoff triple in the bottom of the ninth inning, Kansas University sophomore Connor McKay became the first Jayhawk to hit for the cycle since Jared Schweitzer did it at an NCAA baseball regional in June of 2006.
Unfortunately for the Jayhawks, McKay's offensive explosion — which included a double in the second, single in the fourth and solo homer in the sixth — was not enough to match the bats of visiting Kansas State, which held on for a 4-3, series-opening victory Friday night at Hoglund Ballpark.
The high-octane Kansas State lineup, which is among the best in the country and features eight batters who own an average of .330 or higher, did just enough in this one, pounding four doubles and a home run off of three KU pitchers to push across four runs. The Wildcats (35-15 overall, 12-7 Big 12) also left 13 runners on base, a credit to the work of KU's pitching staff and defense.
Starter Thomas Taylor gave up all four runs — three earned — and surrendered seven hits and three walks before leaving in the sixth inning.
"That was the poorest outing Thomas Taylor has had in a Big 12 Conference game this season," KU coach Ritch Price said matter-of-factly. "But I was proud of the way that he grinded and held 'em to four runs in six innings to give us a chance."
Taylor, KU's Friday night starter all season who fell to 5-2, said he felt he was trying to be too perfect in the early innings because of K-State's offensive reputation.
"I got behind almost every batter," Taylor said. "And that's not a recipe for success."
The Jayhawks (31-19, 12-10) twice pulled within two runs a half inning after the Wildcats threatened to blow things open but never could even the score.
At times, the KSU defense — particularly its stout middle infield — simply would not allow it. At other moments, the Jayhawks hurt themselves with untimely mistakes. Never was that more obvious than in the bottom of the seventh inning when right fielder Dakota Smith was caught attempting to advance to second on a pitch in the dirt just two pitches before McKay parked one over the left-field fence. Instead of pulling KU within a run with three innings to play, McKay's blast made it just 4-2 and left K-State some breathing room.
"You can't look at it that way," said McKay, who said hitting for the cycle felt "great" but added that he would've rather won the game. "Hindsight's 20/20, you know."
Through all of the mistakes, missed signs and controversial calls — K-State catcher Blair DeBord was thrown out of the game for arguing whether an RBI double by KU's Kevin Kuntz had landed fair or foul — the Jayhawks were right there in the ninth with the tying run at the plate.
Because they have played and won so many close ballgames during the past couple of weeks, the KU players said they were confident in the ninth, particularly after McKay's triple.
However, after Ka'iana Eldredge's RBI groundout made it 4-3, the Jayhawks managed just one more hit and never seriously threatened to tie the game.
"Any time you lose by one, it's tough to take," Taylor said. "But that happens. It's baseball. We've won a whole bunch of games just like this lately, and we can still win this series."
In order to do so, which not only would keep KU's hopes of a Big 12 title alive but also would pad their résumé for the postseason, Price was pretty blunt about what it would take.
"Now we have to do it the hard way," he said of winning two straight against the first-place Wildcats.
Added McKay, who said he'd be fine with putting down a couple of sacrifice bunts and working a walk as an encore to his cycle: "Now we just need to come back (today) and win. Do anything to win."
The series resumes at 2 p.m. today, with sophomore lefty Wes Benjamin pitching for Kansas.
Kansas State 010 021 000 — 4 10 0
Kansas 000 011 001 — 3 10 1
W – Levi MaVorhis (5-0), L – Thomas Taylor (5-2), Sv – Jake Matthys (5)
2B: Ross Kivett, KSU, Shane Conlon, KSU, Austin Fisher, KSU, Jon Davis, KSU, Kevin Kuntz, KU (2), Connor McKay, KU, Tucker Tharp, KU. 3B: McKay, KU. HR: McKay, KU (2), Mitch Meyer, KSU (3).
KU highlights: Robert Kahana 2 2/3 IP, 3 H, 0 ER; Junior Mustain 1 IP 0 H, 0 ER, 3 K; Connor McKay 4-for-4, 2B, 3B, HR, 2 R, RBI; Kevin Kuntz 3-for-5, RBI; Ka'iana Eldredge RBI; Tucker Tharp 1-for-4, R.
Copyright 2018 The Lawrence Journal-World. All rights reserved. This material may not be published, broadcast, rewritten or redistributed. We strive to uphold our values for every story published.