Shaun Hanson, a middle school math teacher from the Blue Valley school district, has been named the new assistant principal at Southwest Middle School.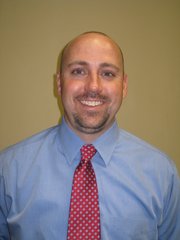 Hanson's appointment is effective July 1, pending approval by the Lawrence school board. He replaces Matt Fearing, who announced his resignation in April in order to pursue other professional opportunities.
Hanson is finishing his 12th year as a math teacher in Blue Valley, according to Lawrence school district officials. While there, he also served as a math specialist and coordinator for 10 years and coached basketball, football, and track and field.
"I am so excited to become part of the Lawrence community and the school district," Hanson said in a statement released by the district. "Southwest Middle School has an excellent reputation across the state."
Southwest currently serves 655 students in grades 6 through 8.
Education news
Have a story idea?
Contact Journal-World education reporter Elliot Hughes:
ehughes@ljworld.com
Copyright 2018 The Lawrence Journal-World. All rights reserved. This material may not be published, broadcast, rewritten or redistributed. We strive to uphold our values for every story published.