Photo Gallery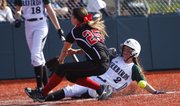 Free State softball v. Lawrence High
Images from Monday's game between Free State and Lawrence High at Free State High School.
Depending upon whom you ask, there were a variety of reasons to get excited about Free State High junior Remington Samuels' three-run triple that banged off of the top of the fence in the fourth inning during the Firebirds' 12-5 City Showdown softball victory over Lawrence High on Monday.
Free State senior A'Liyah Rogers told Samuels in the dugout that the blast that came less than a foot from being a grand slam guaranteed her spot in today's write-up.
One Free State assistant coach was particularly fond of the primal grunt Samuels let out as she made contact with the fastball.
And, moments after she slid safely into third base, Free State coach Lee Ice told his outfielder that if that one didn't leave the yard, nothing would.
Samuels, meanwhile, gave the most honest assessment of the highlight triple.
"I guess I need to hit the weight room," she joked. "I can't seem to get off the warning track. To be honest with you, I didn't even feel myself hit the ball."
If Samuels hopes to become a power hitter, extra reps in the gym might be the best move. But if she's interested in being the kind of player who can change the tone of a game with one sweet swing, she's fine just where she is.
Samuels' three-RBI shot drove in Emily Byers, Courtney Parker and Meredith Morris and turned a hotly contested, 4-3 crosstown rivalry into a Free State runaway. The Firebirds added three more runs in the fifth and two in the sixth and enjoyed the breathing room that was not there all afternoon.
"At 4-3, with two outs, we were just looking to get something through," Ice said of Samuels' timely triple.
Samuels' hit was the second clutch at-bat of the inning for the Firebirds.
Two batters earlier, Parker reached base and broke a 3-all tie when LHS second baseman Brook Sumonja made a nice stab of a sharply hit ball but threw high to first base, allowing Emily Bermel to score.
The error took the momentum away from the Lions, who had tied the game with a run in the top of the fourth, and put it firmly back in the FSHS dugout.
"We knew we had to come in and play a complete game," LHS coach Nick Wood said. "We knew we couldn't give them extra outs or extra bases, and for 31⁄2 innings we did that. Then, in the blink of an eye, we went from being in the game with an opportunity to jump on 'em to back-pedaling."
LHS (6-11) received RBIs from Jolana Shield, Andrea Mills, Morgan Byrn and catcher Katie Murrish, who made one of the defensive highlights of the game with a sprawling grab of a foul ball behind the plate that ended the third inning.
But Free State's loaded lineup simply had too much power and speed.
Five of the nine batters in Free State's lineup reached base at least three times, and six Firebirds scored as Free State moved to 16-3 and kept alive its hopes for hosting next week's regional tournament.
"We just tried to treat it like any other game," Samuels said. "But this was a really big game for us."
Added Ice of Wednesday's 6:15 p.m. rematch at LHS: "If we take care of that, I know we'll be hosting. If we don't, we'll leave our fate in someone else's hands.
"But I have a lot of respect for LHS. They're inexperienced, and that's where we were two years ago."
Lawrence 020 100 2 — 5 8 2
Free State 210 432 x — 12 15 1
W – Meredith Morris (11-1) L – Megan Sumonja (6-8)
2B: A'Liyah Rogers, FS; Emily Byers, FS, Whitney Rothwell, FS, Kristen Gile, LHS, Lauren Byrn, LHS. 3B: Remington Samuels, FS.
Free State highlights: Meredith Morris 6 IP 8 H 4 ER 4 K, 1-for-2, RBI, run; A'Liyah Rogers 4-for-5, 4 runs, 2 SB; Emily Bermel 3-for-5, 3 runs, SB; Emily Byers 4-for-5, 2B, 2 RBI, 2 runs; Whitney Rothwell 2-for-4, 2 RBIs; Remington Samuels 1-for-2, 3B, 3 RBIs.
LHS highlights: Kenzie Garvin 1-for-4; Marly Carmona 1-for-4, run, sacrifice; Morgan Byrn 2-for-4, 2B, run, RBI; Kristen Gile 2-for-4, 2B, 2 runs; Andrea Mills 1-for-2, RBI, SB, run.
Copyright 2018 The Lawrence Journal-World. All rights reserved. This material may not be published, broadcast, rewritten or redistributed. We strive to uphold our values for every story published.