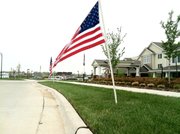 Since Meadowlark Estates opened its doors a couple years ago, 15 seven-foot tall American flags have adorned the entrance way to the retirement community at 4430 Bauer Farm Drive.
Until last week, when a thief or thieves snatched up 10 of the flags overnight.
"I absolutely love the flags out there," said Dorothy Lay, a disappointed resident.
Lay is among numerous residents at the home upset at the loss of the $40 flags — symbols of American patriotism — taken under the cover of darkness April 29.
"Why?" she said. "You just wonder why."
Police were called, but several residents Monday said they don't expect the bandits to be apprehended. Still, that doesn't mean the residents have lost hope.
Several Meadowlark Estates residents, including Roberta Lewis, sent the Journal-World a letter to the editor, asking for the flags to be returned.
"We miss our flags," Lewis said.
Lay, meanwhile, said someone out there knows what happened, and she asked area citizens to keep an eye out for them.
"Somebody's going to see a whole bunch of flags," she said.
Anyone with information can call the Crime Stoppers Hotline at 843-TIPS.
Copyright 2018 The Lawrence Journal-World. All rights reserved. This material may not be published, broadcast, rewritten or redistributed. We strive to uphold our values for every story published.