A baby bird has to be fed every half hour for 16 hours a day. To feed baby rabbits, which are about the size of two fingers, feeding tubes must be inserted into their stomachs, which can be a delicate and difficult experience.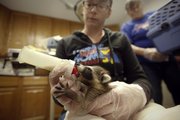 These are some of the challenges faced by volunteers at Operation WildLife, a nonprofit wildlife rehabilitation center in Linwood, just east of Lawrence. Taking care of many new baby animals takes a lot of effort — and it's expensive.
OWL's total annual food budget is about $60,000, money that goes for everything from formula for baby animals to frozen dead mice, rats and fish for adult animals such as falcons and owls.
With a recent influx of baby raccoons, opossums, squirrels, cottontails, foxes and birds, Operation WildLife is preparing for an upcoming fundraiser, which will contribute to saving many new lives. Donations enable the 30-year-old organization to feed and care for about 200 wild animals.
"These animals are not cheap to feed, for instance, a baby raccoon — just for formula, not for mice, rats, minnows, or anything else — it costs us $300 per raccoon," said Diane Johnson, the executive director at OWL. "I have 16 baby raccoons here right now."
Johnson said she hoped to raise a couple thousand dollars at a May 10 concert starring '70s and '80s rock legends Styx, Ted Nugent and REO Speedwagon at the Starlight Theatre in Kansas City, Mo. The organization will be selling raffle tickets for a guitar autographed by the rock stars themselves.
Raffle tickets for the guitar can be purchased from OWL near the entrance, and 25 percent of the proceeds will go to OWL; the remaining 75 percent will benefit victims of the Boston Marathon tragedy. Donations can also be made by credit card at owl-online.org or by mailing a check to the rehabilitation center at 23375 Guthrie Road, Linwood, KS 66052.
"The main reason is to feed the animals," Johnson said. "Statistically, this is our really busy time of the year. We take in between 20 and 50 new animals a day. Baby season runs through April to October."
The baby animals eat constantly throughout the day, and the costs add up.
Laura Florick, one of the 100 volunteers at OWL, said feeding the baby rabbits is a challenging experience because if the tube isn't inserted right into the stomach, the animal could be harmed.
"It's kind of intimidating simply because they are wild, and they don't realize that you're trying to help them at the beginning, so they try and get at you," Florick said. She has many scratches and scabs on her arms as proof.
One of the most frightening animals she has dealt with was a Great Blue Heron, "It's huge; it's enormous," she said. "The scary thing about those is that they can kill you if they get the chance. If you don't have a good grip on them, because they are so large, they can stab you."
Along with caring for wild baby animals, OWL attempts to rehabilitate or take care of adult animals that have been injured. Some of the animals that cannot be released back into the wild are used for public education. Noah, an Eastern Box Turtle, is one of the educational animals. He was given his name because the child who found him said he had "Noah" eyes.
"I'm not a religious person, but I am a spiritual one," Johnson said. "I believe we are the caretakers, and 99 percent of these animals are injured by man or manmade items. This is my way of giving back, and I'm good at it."
Copyright 2018 The Lawrence Journal-World. All rights reserved. This material may not be published, broadcast, rewritten or redistributed. We strive to uphold our values for every story published.