Now this is shopping.
You grab a piece of merchandise off a hay wagon, and when you put it down, a little piece of it — perhaps a bit of grease or a flake of rust — is left on your hand.
It is the Lawrence Region Antique Auto Club of America's Swap Meet at the Douglas County Fairgrounds. And the surest thing about the event — which began Friday and ends at noon today — is that you never know what you may find on the hundreds of wagons and makeshift tables set up by vendors.
"Some farmer may find a part in a ditch, and he'll bring it in and try to sell it," said Ralph Reschke, president of the club. "That's no joke."
It is the type of place where one morning you can drop your kid off to work at a 4-H food stand that feeds the thousands of shoppers, and by that evening you're leaving the fairgrounds with a trailer hauling an old Model A in bits and pieces that you announce to your wife as your next project.
Reschke knows that for a fact. That was his first experience at the show more than 35 years ago. His wife gave him a pass on that one, but when he later brought home a Plymouth convertible, he got a sterner look. The Plymouth was missing its top, floor and engine, but other than that, it looked great to an old car guy like Reschke.
And that's the thing about this place, which has been described by some as a shopping mall for men. There's a golden rule that — it has been suggested — makes men a bit different when they shop.
"If you want to find a bargain here, the main thing is to know what you are looking for," Reschke said.
• • •
For 50 years, people evidently have known what they are looking for at the Lawrence Swap Meet. The event started with 10 to 15 vendors in a corner of the fairground's parking lot, and has grown to consume the entire 40-acre complex during the first weekend of each May.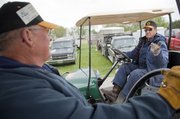 Now it is known as the oldest and largest auto swap meet in the state of Kansas. Antique auto buffs from far and wide — especially the ones in need of that last hard-to-find part to convert a once run-down lemon into a show-stopping cherry — make it a point to circle Lawrence on their maps.
At times during its history, the swap meet has had more than 500 vendors. But as gas prices have risen and the popularity of online retailing through "eBay, or whatever they call it" has increased, the number is closer to 300 to 400 these days, said Joe Arneson, chairman of the club's swap meet committee.
The crowd of shoppers still number between 10,000 to 15,000 people over the three days, even though any old-timer at the event will tell you that the surest way to bring on a rain is to hold the swap meet.
And there are certainly a lot of old-timers. Reschke has been working the show for 37 years. Others have done a few more than that. The story goes that Lawrence resident George Lauppe has been to 49 of the 50 shows.
"I don't know what he was doing for the other one," Arneson said.
As for Arneson, he's been to about 25 of them. He's 67 years old.
Other club members "tell me I'm the young one, but, heck, we're all pretty much old," Arneson said of the club, which has 38 members.
Ask the men whether they think the meet will last another 50 years, and they huff and sputter like a Studebaker on a steep hill. That's a long time to think about. For the time being, there's still gas left in the tank on this event, but everybody acknowledges the challenges of keeping the event alive if a younger generation doesn't step forward.
"I've put up the sound system out here for the last 25 years," Reschke said of the temporary speakers that hang from the light poles. "But I'm retiring after this year."
Who knows? Maybe he will. That's another thing about the swap meet. Things come and go here. Or as the savvy shoppers will tell you, once a part here is sold, there's usually not another one waiting to replace it on the shelf.
Heck, usually there's not even a shelf.
• • •
Anybody in the antique business has run into this problem: As time marches on, the items everybody wants to collect become harder to find.
But normally, time has a way of taking care of that problem. Items that were once new become old, and eventually they become collectibles.
The question around the swap meet these days, however, is whether that cycle will come to the antique auto industry. Sure, any vehicle over 35 years old in Kansas qualifies for an antique tag, but that doesn't mean anybody will find it collectible.
Most antique auto clubs won't consider any car made after 1972 an antique, said Jack Todd, swap meet reservation co-chair. After that, the smog control came, and then came the 1980s and plastic fenders.
Plastic. Why would anyone want to collect plastic?
Todd is skeptical about how long the hobby can last. True antiques are getting harder and harder to find.
"There are no cars parked in the backyard anymore," Todd said. "When we were kids, when you were done driving it, you let it sit in the back yard. People don't want that to happen anymore, so in another 30 years, it is going to be awful slim pickings to find an old car."
But maybe people still will try anyway, because Todd also recognizes a fundamental truth about collecting.
"People collect and restore cars that mean something to their generation," Todd said.
Maybe that means my kids will be knocking around a swap meet 20 years from now, looking for parts for a minivan. Even plastic parts. I don't know, but I wouldn't bet on swap meets fading away.
Cars are much more powerful than the engines beneath their hoods. Sure, they carry us back and forth through the drudgery of ordinary life, but they are with us so much that they are bound to carry a few memories, too.
Maybe that is the secret to 50 years of success for the Lawrence Swap Meet. There aren't many places you can buy back your memories, or simply share them with others.
"You know," Todd said, "I've been in cars for 40 years now, and I've never run across a really bad car person. When you find a car person, you know you've got a common interest and you know you can swap stories."
Like the man at the beginning said, the key to finding a good deal is knowing what you are looking for. Good people. Good stories.
Good luck in finding a better deal than that.
Copyright 2018 The Lawrence Journal-World. All rights reserved. This material may not be published, broadcast, rewritten or redistributed. We strive to uphold our values for every story published.