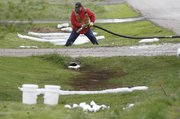 Emergency crews from Jefferson and Douglas counties responded late Friday night to a reported fuel spill in McLouth.
Daryl Chess, Jefferson County emergency manager, said McLouth fire crews were dispatched at 10:58 p.m. to the BP station at 101 E. Lake St.
A truck driver was filling the station's storage tanks when he found a leak. The relief valve on the storage tank had popped after the tank was overfilled, causing an estimated 1,500 gallons of diesel fuel to spill.
When McLouth fire crew members initially arrived, they found fuel running in the ditches and toward the backyards of homes.
"There was no hazard of any explosions or anything like that ... two homes voluntarily evacuated due to the smell," Chess said.
Berms were built to contain the spill, and private contractor Haz-Mat Response Inc., Olathe, is continuing cleanup efforts. In order to clean up the spill, crews put on dispersants and saturated and sprayed the affected area with water. Then, they applied natural base products, such as peat moss, to absorb the rest of the fuel.
The moss and other products will remain on the affected areas continuously for the next four or five days, when the state will then decide if any soil needs to be removed.
The recent moisture in the area helped to avoid a more complicated cleanup. If the ground had been dry, the oil would have soaked into the ground, but the water kept the oil from absorbing, leaving it on top of the ground so crews were able to soak much of it up with vac trucks.
Chess said this is the largest diesel gasoline spill in the county's history.
Copyright 2018 The Lawrence Journal-World. All rights reserved. This material may not be published, broadcast, rewritten or redistributed. We strive to uphold our values for every story published.