Olathe — Heading into the Sunflower League swimming prelims Friday night at Prairie Trail Middle School, the girls swimmers from Lawrence and Free State high schools knew they could count on their top performers to do what they always do.
Photo Gallery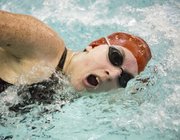 Sunflower League swim prelims
The excitement for the Lions and Firebirds came in seeing how many swimmers they could get in the top six — to qualify for a medal — or top 12 — to score team points — at today's finals.
FSHS coach Annette McDonald never seemed more thrilled than when she saw the results for the just completed 100 breaststroke. Firebirds sophomore Kat LaFever finished fifth and freshman Trenna Soderling snuck into the finals at 12th.
The number of times Free State swimmers had missed out on a medal heat or finals berth heightened the coach's elation. Although the Firebirds fared quite well, with first-place finishes by Courtney Caldwell in the 50 and 100 free, as well as a FSHS sweep in the three relay races, each time a Firebird came up a place short or a fraction of a second off the cut, it stung a little more.
Sophomore Alexa Malik, shooting for the top six, settled for seventh in both the 50 and 100 free.
"I was kind of bummed at first that I didn't make the top six, but I was super-proud of my times," Malik said after setting new personal records in each race.
Finishing just outside the top 12 proved to be a more difficult situation with which to cope for some saddened Firebirds. Anna McCurdy took 14th in both the 200 IM and 500 free. Kate McCurdy took 15th in the 200 IM. LaFever was 13th in the 100 fly. Eliot Eckersley finished 15th in the 100 breast, one spot ahead of teammate Riley Koch.
Free State senior Morgan Miller, like her teammates, agonized for a time after swimming to 13th in the 500 free and 14th in the 200 free.
"It's really disappointing," Miller said, "but I know I have great potential for state."
The senior even found a silver lining in the 500 free, because fellow Free Stater Kate McCurdy was the one who beat Miller (by 0.88 seconds) for the 12th and final spot.
"I'm just really happy that one of us got in," Miller said. "So I'm gonna be there cheering for her (today). I'm really proud of my girls."
The Lions endured similar close calls at the prelims. Junior Annie Odrowski was 15th, and 0.89 seconds off 12th, in the 200 free, after finishing 16th in the 100 free. Sophomore Hannah Lee took 14th in the 100 breast.
"The same thing happened to me last year," Odrowski said. "It's definitely a disappointing feeling. Obviously, I wish I was top 12. However, I think a lot of my other teammates stepped up tonight."
Lawrence's top performers included Heather Cistola, who swam to second in the 100 fly and fourth in the 200 free, and Gretchen Frick, who took third in the 200 IM and fourth in the 500 free.
Free State's Lucy Sirimongkhon-Dyck, LaFever, Cierra Campbell and Sydney Sirimongkhon-Dyck won the 200 medley relay. Sydney, Malik, Eliza Anderson and Caldwell earned first in the 200 free relay. Firebirds Campbell, Anderson, Lucy Sirimongkhon-Dyck and Caldwell closed the prelims by winning the 400 free relay.
Sunflower League diving prelims begin at 8:30 this morning, with swimming and diving finals to follow at 12:30 p.m.
Copyright 2018 The Lawrence Journal-World. All rights reserved. This material may not be published, broadcast, rewritten or redistributed. We strive to uphold our values for every story published.