On March 14, Lawrence artist Daniel Ramirez got fired from his job at a Kansas City, Mo., jewelry store. Because of art.
He had recently gotten back into painting, many years after a stint as a "public artist" — hint: it required spray paint — in his native Mexico. Excited about his new pursuit, he changed his screensaver at work to one of his portraits. He picked the wrong day to do so. His boss, fresh off an epic argument with his co-owner wife, saw Ramirez's computer, proceeded to cuss him out and, with that as his warning, fired him.
Rain date set
If it rains Sunday, Art in the Park will be made up the following Sunday from 10 a.m. to 5 p.m. The cancellation would be announced by 8 a.m. on KLWN 1320 AM or (785) 979-7039.
"He told me to get out. I did," said Ramirez, 30. "But I think it was the best day of my life, because now I'm doing what I wanted to be doing."
Ramirez, who has since decided to make a career out of expressionist painting, is one of the many local artists who will be showing off their creative passions at this weekend's Art in the Park, scheduled from 10 a.m. to 5 p.m. Sunday in South Park.
"I think this is really going to be one of the best years for Art in the Park ever, just because of the quality of art we have," said Amanda Monaghan, president of the Lawrence Art Guild, which organizes the event. "It's a good mix of new and old artists. We have everything from folk art to representative landscapes to the most abstract, far-out kind of stuff."
The annual fine-arts show, which began in 1961, features more than 125 artists, plus food vendors, activities for the kids and live music. Cash and other prizes are awarded to the top artists in the juried show.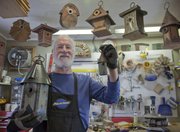 Other 'new' artists
Ted Freeman never had an inkling he would become an artist. But after creating his first birdhouse two years ago, he got hooked.
The 61-year-old Lawrence man has since left his job in the business world, and now earns a living making eco-friendly, rustic birdhouses by hand, under the name Roundhouse Works. He designs the structures for small backyard birds such as finches and chickadees, building them with wood and metal recycled from old barns in the area.
Art in the Park 2013 will mark Mary Ellen Anderson's return to the fine-arts festival after roughly three decades. The realist oil painter left the business in the mid-1980s after her style of art became passé.
Leaving her chosen career broke her father's heart, so she promised him that if representative art ever came back in style she would return to the art world. Though her father died in 1996, she is still following through on her pledge, which she says has renewed her passion for painting.
Art by the Park All-Artists Show
The Lawrence Art Guild is hosting the Art by the Park All-Artists Show, featuring artists from Sunday's event, at its gallery at 1109 Massachusetts St. through May 26. Hours are Wednesday through Saturday from 11 a.m. to 5 p.m.
"I didn't realize how deeply that had bothered me to walk away," she said. "But coming back was just an emotional — just, wow. I didn't have any idea I'd missed it that much."
Anderson, 58, also recently opened a gallery that features the work of six other local artists, located inside her other business, Anderson Rentals, 1312 W. Sixth St. While she is looking forward to her return to Art in the Park, she wouldn't mind if it rains so she has another week to prepare. Her new career in art did happen kind of quickly.
Copyright 2018 The Lawrence Journal-World. All rights reserved. This material may not be published, broadcast, rewritten or redistributed. We strive to uphold our values for every story published.